Wal-Mart pulls 'naughty' toddler Halloween costume
Outfits for the fall holiday are increasingly pushing the envelope, leading to apologies and yanked merchandise.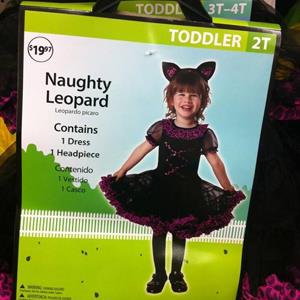 Exactly when Halloween transformed into an excuse for adults to wear "sexy pirate" outfits may never be known, but Wal-Mart (WMT) is now finding out that pushing "naughty" costumes for toddlers is going over as well as slipping razor blades into apples. 

After complaints from parents, the retailer is pulling a costume called "Naughty Leopard" from its shelves, reports the Houston Chronicle. Some worried the outfit tapped into a "sex sells" strategy that sexualizes children. 
Proving that tasteless Halloween costumes know no boundaries, Britain has its own scandals. 
Two British supermarket chains are backing down after offering "mental patient" costumes. Asda, which is owned by Wal-Mart, apologized for its costume, which featured a meat cleaver and a blood-covered straightjacket, and said it would make a donation to a mental health charity, the BBC notes. 
Tesco, not to be outdone, apologized for its orange "psycho ward" jumpsuit costume, which featured a plastic jaw restraint and machete. Both retailers are pulling the costumes. 
Still, the leopard costume was more a victim of its description than the clothing itself, since the dress features a fairly traditional girl's frock, with a set of cat ears to add a feline dimension. It's hardly titillating or shocking, but the negative reaction may be due to the strange dichotomy of Halloween. 
Once the purview of elementary-age trick-or-treaters, the holiday now is an excuse for grownups to don "sexy" costumes, ranging from a "sassy" Ursula the Witch get-up to a "sexy" Bert or Ernie ensemble (yes, as in "Sesame Street").

How did this all come about? Maybe it was Elvira's sexy vampire look back in the 1980s, or the notoriously line-crossing Greenwich Village Halloween parade, as Slate notes. And of course, the holiday has always been about pushing boundaries, given that it was once believed to be the day when the spirits of the dead revisited their homes. 
Still, it shouldn't require a psychic to know that sexy toddler costumes and outfits equating mental illness with violence are going to fly as well as the Great Pumpkin. 
Follow Aimee Picchi on Twitter at @aimeepicchi. 
DATA PROVIDERS
Copyright © 2013 Microsoft. All rights reserved.
Fundamental company data and historical chart data provided by Morningstar Inc. Real-time index quotes and delayed quotes supplied by Morningstar Inc. Quotes delayed by up to 15 minutes, except where indicated otherwise. Fund summary, fund performance and dividend data provided by Morningstar Inc. Analyst recommendations provided by Zacks Investment Research. StockScouter data provided by Verus Analytics. IPO data provided by Hoover's Inc. Index membership data provided by Morningstar Inc.
MARKET UPDATE
[BRIEFING.COM] The Dow and S&P 500 have returned to their flat lines while the Nasdaq continues to hold a modest gain (+0.1%). The retreat from the opening highs was not driven by any particular sector, but rather a broad-based effort that appears to be a continuation of the selling from the past three sessions.

The consumer staples sector (-0.3%), which was the weakest group yesterday, can once again be found among the laggards. Other countercyclical groups also lag with telecom ... More
More Market News
TOP STOCKS
Amazon's latest venture: Pantry
The giant online retailer is reportedly set to take on Costco and Sam's Club with Amazon Pantry, its foray into the consumer package goods business.