US is No. 1 at putting people behind bars
It costs between $28,000 and $60,000 to house an inmate. With federal prisons 40% overcrowded, can we afford to cut low-level drug offenders loose?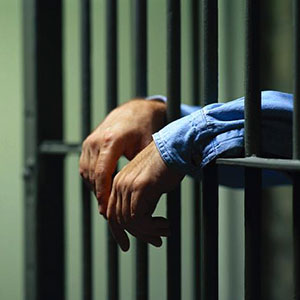 The Justice Department wants to do away with mandatory minimum sentences for drug convictions, reduce the prison population and start saving some money. As it turns out, prisons are among the few places in America where a surplus is a problem.
Attorney General Eric Holder announced the department's plan on Monday, noting that the U.S. accounts for just 5% of the world's population but incarcerates almost a quarter of the world's prisoners. He added that U.S. federal prisons are nearly 40% above capacity and that almost half of the inmates are serving time for drug-related crimes.
The cost of housing those prisoners isn't cheap, either. According to the federal Prisons Bureau, the average cost of incarceration for federal inmates in 2011 was nearly $29,000. A report by the non-partisan Vera Institute of Justice, "The Price of Prisons," states that the average cost of incarcerating one inmate in lower-tier prisons in 2010 was $31,307 per year. "In states like Connecticut, Washington state, New York, it's anywhere from $50,000 to $60,000," he said.
That $60,000 a year is a teacher, firefighter or police officer's salary that isn't paid. All told, the Vera Institute estimates that incarcerating criminals costs taxpayers $63.4 billion a year.
That's still a deal compared to the $500 million spent annually by the Pentagon on the Guantanamo Bay prison facility, which works out to $2.7 million per prisoner for all 166 prisoners. By comparison, America's most secure prison, the so-called Supermax in Florence, Colo., costs about $78,000 per year to operate on a per-prisoner basis.
But that's not the prison population being targeted here. The United States leads the world in the percentage of its population behind bars, according to the International Centre for Prison Studies in London, largely because of mandatory minimum sentences and related laws enacted in the 1980s and 1990s at a time of rising crime and drug violence.
According to statistics kept by the International Centre, 716 of every 100,000 Americans are in prison or in jail awaiting trial. That compares to 479 in Russia, 284 in Iran, 274 in Brazil, 209 in Mexico, 149 in England and Wales, 121 in China, 114 in Canada, 102 in France and 80 in Germany.
There are nearly 2.4 million Americans behind bars, even though over the last 20 years the crime rate has actually dropped by more than 40%. That's led to overcrowding so acute in some areas that, in California, the U.S. Supreme Court called it "cruel and unusual punishment" and last May ordered the state to cut its prison population by more than 30,000.
On a grand scale, what Holder is proposing is a reconsideration of the "war on drugs" and its effect on the U.S. justice system. At its finest point, it's a bloated line item that seem ripe for a trim.


DATA PROVIDERS
Copyright © 2014 Microsoft. All rights reserved.
Fundamental company data and historical chart data provided by Morningstar Inc. Real-time index quotes and delayed quotes supplied by Morningstar Inc. Quotes delayed by up to 15 minutes, except where indicated otherwise. Fund summary, fund performance and dividend data provided by Morningstar Inc. Analyst recommendations provided by Zacks Investment Research. StockScouter data provided by Verus Analytics. IPO data provided by Hoover's Inc. Index membership data provided by Morningstar Inc.
MARKET UPDATE
[BRIEFING.COM] The stock market finished the Thursday session on a higher note with the S&P 500 climbing 0.5%. The benchmark index registered an early high within the first 90 minutes and inched to a new session best during the final hour of the action.

Equities rallied out of the gate with the financial sector (+1.1%) providing noteworthy support for the second day in a row. The growth-oriented sector extended its September gain to 1.9% versus a more modest uptick of 0.4% for the ... More
More Market News