What would a strike against Syria cost?
Even in a very limited scenario, any US attack entails a tab of hundreds of millions of dollars -- and that's just the financial tally.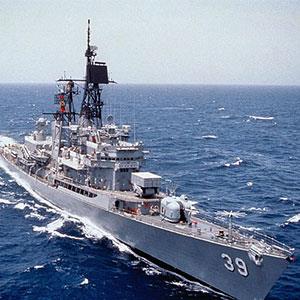 Putting aside the harrowing thought of once again placing American military men and wormen in harm's way, what would be the economic cost of a U.S. strike on Syria?
That will depend on the size, scope and duration of any such attack, part of an expected multinational response to the Syrian government's alleged use of chemical weapons against its own people. But reports indicate it will cost hundreds of millions of dollars in the opening days alone.
Four U.S. Navy guided missile destroyers (pictured) have taken up positions in the eastern Mediterranean and are prepared to strike targets in Syria. Reuters speculates these ships would deliver the first blows of any attack. Each one can carry up to 96 Tomahawk cruise missiles, which a Navy official tells moneyNOW cost about $1.2 million each.
Multiple air strikes could also be launched from U.S. submarines and aircraft in the region.
As for the nature of any attack, "I think it would be more like Kosovo-lite, with a smaller target set and limited air involvement," Jeffrey White, defense fellow at the Washington Institute for Near East Studies, recently told the Christian Science Monitor. He was referring to the 1999 NATO air war in the former Yugoslavia, meant to protect an endangered population against a brutal government crackdown.
A limited military response could end with just one series of attacks. But what then, if more force is needed? One option would be to establish a "no-fly zone" over Syria, preventing the Bashar Assad government from using its air power against rebel forces.

But in a letter last month to the Senate Armed Services Committee, General Martin Dempsey, chairman of the U.S. Joint Chief of Staff, estimated it would cost $500 million to initially set up a no-fly zone, followed by expenses "averaging as much as a billion dollars per month over the course of a year."
Establishing a buffer zone to protect civilian populations in Syria could be even more expensive, according to the general, requiring a limited no-fly zone as well as U.S. ground forces. That would push the costs to over $1 billion per month. Other options, he said, are just as costly.
Clearly, none of this is cheap, even in a best-case scenario. In 2011, the Pentagon estimated the first few weeks of its operations in the multinational military intervention in Libya cost around $608 million. More than half of those costs went toward replacing weapons like the Raytheon (RTN) Tomahawk missiles and Boeing's (BA) Joint Direct Attack Munitions, the JDAM smart bombs, according to DefenseNews.com.
The 78-day air campaign in Kosovo, by contrast, cost the U.S. about $5 billion, although that amount also included peacekeeping and refugee assistance funds.
But up against those financial challenges are much larger issues, such as what might happen if nothing is done to stop the bloodshed in Syria and what might happen if the U.S. and its allies do strike Syria.
DATA PROVIDERS
Copyright © 2014 Microsoft. All rights reserved.
Fundamental company data and historical chart data provided by Morningstar Inc. Real-time index quotes and delayed quotes supplied by Morningstar Inc. Quotes delayed by up to 15 minutes, except where indicated otherwise. Fund summary, fund performance and dividend data provided by Morningstar Inc. Analyst recommendations provided by Zacks Investment Research. StockScouter data provided by Verus Analytics. IPO data provided by Hoover's Inc. Index membership data provided by Morningstar Inc.
MARKET UPDATE
[BRIEFING.COM] The stock market began the new trading week on the defensive note with small-cap stocks pacing the retreat. The Russell 2000 (-1.4%) and Nasdaq Composite (-1.1%) displayed relative weakness, while the S&P 500 lost 0.8% with all ten sectors ending in the red.

Global equities began showing some cracks overnight after China's Finance Minister Lou Jiwei poured cold water on hopes for new stimulus measures. Specifically, Mr. Lou said the government has no plans to change ... More
More Market News