Where fast-food workers toil longest for a Big Mac
While low-paid employees in Sierra Leone would have to labor for 136 hours, US workers are hardly in first place.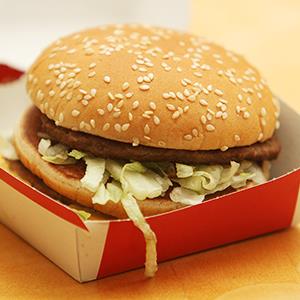 McDonald's (MCD) Big Mac serves as a cultural Rorschach test, viewed as either a beloved food icon or a symbol of society's ills, depending on a person's outlook. But the famous burger also has a role in the business world as an economic indicator. 

Strategists at the trading firm ConvergEx have created a minimum wage Big Mac index, which looks at how long low-earning workers in various countries would need to toil to buy one of Mickey D's famous burgers. 
For American workers, the report offers a tantalizing slice of good news and a whopping dose of depressing reality. 
First the good news. The U.S. is far from the worst place to work when it comes to Big Mac affordability. Several countries require their lowest-paid workers to toil far longer to afford a burger, and Sierra Leone is the worst. 
Workers in the African country, which suffered a devastating decade-long war in the 1990s, must work 136 hours to afford a Big Mac, given the country's 3-cent minimum wage. Nevertheless, the issue is moot for most Sierra Leone residents because there's no McDonald's restaurant within its borders.
American minimum-wage workers place in the middle of the pack, requiring about 34 minutes of labor to afford a Big Mac
"If we compare apples to apples how many hours it takes to earn a Big Mac at minimum wage, the U.S. again comes right in the middle at number 8," ConvergEx researchers write. 
So what's the bad news? First, workers in many of the world's developed countries outpace American workers, including those in Australia, New Zealand, France and Canada. 
Workers in Australia were the best off, needing just 18 minutes to buy a burger. McDonald's wages in Australia are about $15 per hour, or double the U.S. minimum wage of $7.25. 
But looking simply at the baseline pay might be missing the beef, the strategists note. That's because the battle over the minimum wage -- with conservatives arguing against a proposed increase -- ignores the impact of benefits. Only 9% of U.S. wages are paid out through benefits, lower than the 16.2% average for 30 countries surveyed by Bureau of Labor Statistics, the report notes. 

"For comparison's sake, the amount of benefits you are paid for working in the U.S. are closest to those you might get if you were working in Greece or New Zealand," the strategists write. "Even Singapore has higher benefit pay than U.S. workers."
Given that minimum wage workers are less likely to receive benefits than higher-paid employees, that means $7.25 an hour "certainly isn't enough to pay for . . . medical expenses or to save for retirement."
Even a side of fries can't make that analysis any more palatable to America's low earners.
Follow Aimee Picchi on Twitter at @aimeepicchi. 
DATA PROVIDERS
Copyright © 2014 Microsoft. All rights reserved.
Fundamental company data and historical chart data provided by Morningstar Inc. Real-time index quotes and delayed quotes supplied by Morningstar Inc. Quotes delayed by up to 15 minutes, except where indicated otherwise. Fund summary, fund performance and dividend data provided by Morningstar Inc. Analyst recommendations provided by Zacks Investment Research. StockScouter data provided by Verus Analytics. IPO data provided by Hoover's Inc. Index membership data provided by Morningstar Inc.
MARKET UPDATE
[BRIEFING.COM] The stock market finished the Tuesday session on the defensive after spending the entire day in a steady retreat. The S&P 500 (-0.6%) posted its third consecutive decline, while the small-cap Russell 2000 (-0.9%) slipped behind the broader market during afternoon action.

Equity indices were pressured from the start following some overnight developments that weighed on sentiment. The market tried to overcome the early weakness, but could not stage a sustained rebound, ... More
More Market News