Where you grow up can hurt how far you rise
When it comes to climbing the economic ladder, certain parts of the country will put you at a distinct disadvantage.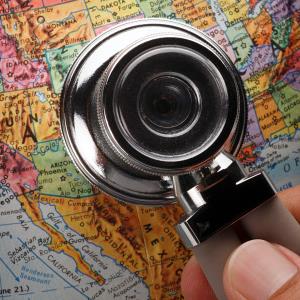 Americans cherish the image of their country as the land of opportunity. No matter where you live, the thinking goes, anyone with gumption and elbow grease can make a success of themselves.

But a new study calls into question that belief because the researchers found that income mobility is actually hampered by geography. If you live in much of the South -- including big cities such as Atlanta and Memphis, Tenn. -- you're much less likely to see your income climb as are residents of the Northeast, the West and Great Plains, The New York Times notes.
The reasons don't appear to be linked to tax credits or taxes on the wealthy, however. Instead, economic gains may be linked to the quality of a region's schools, as well as its socio-economic diversity and its level of civic engagement.
The study considered millions of anonymous records from families in 1980-81, and then measured the income of their now-adult children in 2010-11. "Where you grow up matters," Nathaniel Hendren, a Harvard economist and one of the study's authors, told The Times. "There is tremendous variation across the U.S. in the extent to which kids can rise out of poverty."
For instance, a child growing up in Atlanta and whose family is in the 10th percentile of earners (making $16,000 per year) will on average end up in the 31st percentile of earners. However, a child from San Francisco with a similar family background will end up in the 41st percentile, the study found.
The report, which studied millions of earnings records, had some startling findings about what factors are or aren't important for upward mobility. For instance, income was only slightly affected by larger tax credits for the poor and higher taxes on the wealthy, The Times noted. 
So, what did make a difference? The researchers found a few big issues. The first is how income is distributed across a geographic area, with upward mobility helped in cities that mix poor families with higher-income households. 
Not surprisingly, cities with better elementary and high schools saw greater income mobility, as did those with more two-parent households and higher civic engagement. 
The study also found that while regions with big black populations saw less upward mobility, it didn't boil down to race. Atlanta's white and black residents both suffer from a lack of income gains. 
The cities with the highest mobility rates include Pittsburgh, Seattle, Wash., and Salt Lake City. 
Still, the researchers cautioned that the findings "are correlational and cannot be interpreted as causal effects."
The report added: "There are some areas in the U.S. where a child's chances of success do not  depend heavily on his or her parents' income. Understanding the features of these areas -- and how we can improve mobility in areas that currently have lower rates of mobility -- is an important question for future research."
Follow Aimee Picchi on Twitter at @aimeepicchi. 
DATA PROVIDERS
Copyright © 2014 Microsoft. All rights reserved.
Fundamental company data and historical chart data provided by Morningstar Inc. Real-time index quotes and delayed quotes supplied by Morningstar Inc. Quotes delayed by up to 15 minutes, except where indicated otherwise. Fund summary, fund performance and dividend data provided by Morningstar Inc. Analyst recommendations provided by Zacks Investment Research. StockScouter data provided by Verus Analytics. IPO data provided by Hoover's Inc. Index membership data provided by Morningstar Inc.
MARKET UPDATE
[BRIEFING.COM] The stock market finished an upbeat week on a mixed note. The S&P 500 shed less than a point, ending the week higher by 1.3%, while the Dow Jones Industrial Average (+0.1%) cemented a 1.7% advance for the week. High-beta names underperformed, which weighed on the Nasdaq Composite (-0.3%) and the Russell 2000 (-1.3%).

Equity indices displayed strength in the early going with the S&P 500 tagging the 2,019 level during the opening 30 minutes of the action. However, ... More
More Market News