Which airline is the 'greenest'?
A new study ranks carriers by overall fuel efficiency, data that can be viewed as a financial litmus test.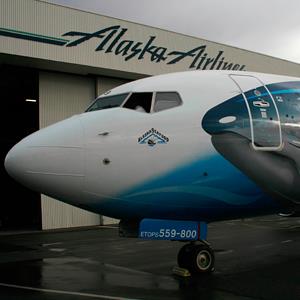 Anyone who has been through an airport recently can certainly back up what many statistics are already reporting: Air travel is growing rapidly worldwide. And while aviation produces much less air pollution than cars or power plants, it's still a considerable contributor.
So, a new study has listed the "greenest" U.S. airlines in terms of their fuel efficiency and notes some very basic economic reasons for consumers, governments and investors to pay attention to these rankings.
The International Council on Clean Transportation (ICCT) study compared fuel usage by the top U.S. domestic airlines in 2010, using a metric and methodology developed by researchers at the University of California Berkeley's National Center of Excellence for Aviation Operations Research (NEXTOR). It allows for a fair comparison of the airlines and their various markets, regardless of their size or business model.
Here are the study's rankings of the 15 largest U.S. airlines in 2010, in terms of overall fuel-efficiency:
1. Alaska Airlines
2. Spirit Airlines (tie)

2. Hawaiian Airlines (tie)
4. Continental Airlines
5. Southwest Airlines
6. Frontier Airlines
7.JetBlue Airways
8. United Airlines
9. Virgin America
10 Sun Country Airlines
11. Delta Airlines
12. US Airways
13. AirTran Airways
14. American Airlines
15. Allegiant Air
The researchers acknowledge that many variables affect an airline's fuel consumption, including the types of planes and routes flown, operational practices and passenger seating density.
They also noted a 26% difference between the most efficient airline, Alaska (ALK), and the least-efficient, Allegiant (ALGT) but pointed out the weak link, at best, between fuel efficiency and airline profitability. In fact, according to the study, "the least efficient airline in this ranking, Allegiant Air, also happened to have the most profitable U.S. domestic operations during the 2009 to 2011 period."
Some industry observers say the ICCT study is more than a way of determining an airline's carbon footprint -- it should be looked at as a financial litmus test.
"It should ... be a red flag for airline investors," Glenn Hurowitz, with the Center for International Policy, recently blogged at The Huffington Post.
"The airlines' single biggest cost is jet fuel," he added, "more than salaries, more than health care, and definitely more than plane food -- so a failure to use fuel efficiently usually means that the airline isn't operating as profitably as it should be."
And fuel costs and consumption rates aren't going to get any better. The ICCT says about 10% of the world's transportation-relat​ed oil  use -- around 4.5 million barrels daily -- currently goes toward aviation. That's expected "to at least double" by 2030.
DATA PROVIDERS
Copyright © 2014 Microsoft. All rights reserved.
Fundamental company data and historical chart data provided by Morningstar Inc. Real-time index quotes and delayed quotes supplied by Morningstar Inc. Quotes delayed by up to 15 minutes, except where indicated otherwise. Fund summary, fund performance and dividend data provided by Morningstar Inc. Analyst recommendations provided by Zacks Investment Research. StockScouter data provided by Verus Analytics. IPO data provided by Hoover's Inc. Index membership data provided by Morningstar Inc.
MARKET UPDATE
[BRIEFING.COM] The stock market began the new week on a cautious note. The S&P 500 lost 0.3%, but managed to erase more than half of its opening decline. Thanks to the rebound, the benchmark index reclaimed its 50-day moving average (1976.78) after slipping below that level in the morning.

Equities slumped at the open amid a couple global developments that dampened the overall risk appetite. Continued student protests in Hong Kong and a potential response from China weighed on the ... More
More Market News