Who says earnings reports have to be dry?
In National Beverage's latest results, its chairman says things like 'no mental degradation has occurred!' That has many analysts wondering.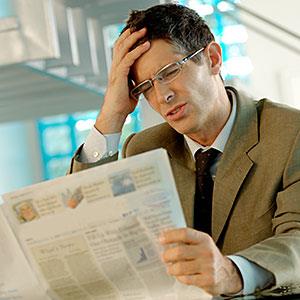 The fact that National Beverage (FIZZ) reported disappointing results in its latest quarterly earnings report isn't necessarily big news. But the blogosphere is buzzing and puzzling over the content of that report, which reads like something out of 1950s Beatnik poetry. 
Ready? Cue the bongos:
"Does it make us feel less contrite relative to the credibility of the justification?" company chairman and CEO Nick Caporella asked -- apparently, rhetorically -- in the soda-maker's press release. "There can be no allowable regrets in business or fumbles on the field (deck) of Endeavor -- none . . . (no one even knows how to practice them)."
Admittedly, the soft drink industry is going through a rough spell, with overall consumption rates of carbonated beverages falling dramatically in recent years, fueled in part by concerns over obesity.

But here's Caporella's take on his company's current woes:
"As I repeat from our Annual Report, look at our track record over the past twenty years -- no mental degradation has occurred! Judge us by all four quarters next July 2014. Certainly, we have come to know -- precious rainbows usually require both rain and sunshine! Team National's results were obtained by diligence and untiring determination. We are Disappointed -- Yes; Contrite -- Certainly; Resilient -- Absolutely ..."
Twitteratis were apparently awed in the wake of this landmark report.
"Can we be SURE that no mental degradation has occurred over the last two decades at National Beverage?" asked one. "I am not convinced."
"Don't do drugs people," tweeted another. "Most peculiar press release I've ever read."
CNBC even had reporter Jane Wells call the company to find out what was going on. She spoke to Grace Keene, who confirmed those were indeed Caporella's remarks.
"When I asked Keene for more context -- when were these statements made, what was the motivation, is this not unusual," Wells noted, "she said she had no additional comment."
DATA PROVIDERS
Copyright © 2014 Microsoft. All rights reserved.
Fundamental company data and historical chart data provided by Morningstar Inc. Real-time index quotes and delayed quotes supplied by Morningstar Inc. Quotes delayed by up to 15 minutes, except where indicated otherwise. Fund summary, fund performance and dividend data provided by Morningstar Inc. Analyst recommendations provided by Zacks Investment Research. StockScouter data provided by Verus Analytics. IPO data provided by Hoover's Inc. Index membership data provided by Morningstar Inc.
MARKET UPDATE
[BRIEFING.COM] Recent action saw the S&P 500 (+0.1%) slip to a session low, while the Nasdaq Composite (-0.1%) is now in the red.

The tech-heavy Nasdaq has trailed the S&P 500 since the start and has been pressured into negative territory by the continued underperformance of chipmaker stocks. The PHLX Semiconductor Index has widened its loss to 0.8% amid weakness in 29 of its 30 components.

Furthermore, the index has also been pressured by the biotech group, which has ... More
More Market News