Why a minimum-wage hike would help Wal-Mart
It and other low-wage employers may profit from higher baseline pay, which would boost retail spending by $5 billion.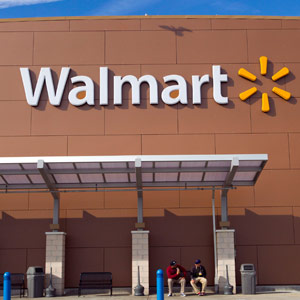 Paying workers more would lead to lower profits and layoffs for America's biggest corporations, right? Not necessarily. 

Critics of a minimum wage hike cite a commonly held belief that forcing low-paying employers such as Wal-Mart (WMT) to boost compensation would lead to greater economic suffering. Higher labor costs, they argue, would require higher prices, prompting layoffs and more pain.
But research from the public policy firm Demos finds that raising the minimum wage could potentially strengthen the financial standing of Wal-Mart, McDonald's (MCD) and other companies that attract low-income customers.
It's a "misconception is that raising the minimum wage will lead to another person's loss," Catherine Ruetschlin, a policy analyst at Demos, told MSN moneyNOW. Low-wage earners "are the people most likely to spend 100% of their paycheck. Raising the minimum wage, especially in periods of weak consumer demand like now, is actually a stimulus."
Right now, Wal-Mart's core customer doesn't have a lot of extra spending money. With the baseline wage at $7.25, America's lowest-earning workers bring home just over $15,000 annually. That hasn't changed since 2009, when the minimum wage was last boosted, but the prices of oil, gas, milk and other basic goods have jumped since then, according to the National Employment Law Project. 
One-quarter of Wal-Mart shoppers earn less than $25,000 per year, and 12% of them bring home less $15,000. 
Wal-Mart hasn't officially made a statement about President Barack Obama's proposal to boost the baseline wage to $9 an hour, The Huffington Post notes. But the country's largest private employer recently threatened to leave Washington, D.C., if city officials enacted a "living wage" mandate. 
Given that many Wal-Mart customers are just barely getting by, it's no surprise that the company in August cut its annual profit forecast. Analysts pointed to the struggling low-income consumer as the reason. 
But wouldn't a minimum-wage hike boost payroll costs, leading to higher prices at the checkout counter? 
Not so much. The actual impact on payroll would translate to only 1% of the $2.17 trillion in annual sales from large retailers, Demos found. If the entire impact of a minimum wage hike were passed on to shoppers, they'd pay just 1% more for the same goods, according to the study. 
Wal-Mart and McDonald's low wages have attracted the attention of former Secretary of Labor Robert Reich, who started a petition telling them to stop being cheap.
But the bigger question facing Wal-Mart is whether it can afford a customer base with empty pockets. 
Follow Aimee Picchi on Twitter at @aimeepicchi.
DATA PROVIDERS
Copyright © 2014 Microsoft. All rights reserved.
Fundamental company data and historical chart data provided by Morningstar Inc. Real-time index quotes and delayed quotes supplied by Morningstar Inc. Quotes delayed by up to 15 minutes, except where indicated otherwise. Fund summary, fund performance and dividend data provided by Morningstar Inc. Analyst recommendations provided by Zacks Investment Research. StockScouter data provided by Verus Analytics. IPO data provided by Hoover's Inc. Index membership data provided by Morningstar Inc.
MARKET UPDATE
[BRIEFING.COM] The stock market finished an upbeat week on a mixed note. The S&P 500 shed less than a point, ending the week higher by 1.3%, while the Dow Jones Industrial Average (+0.1%) cemented a 1.7% advance for the week. High-beta names underperformed, which weighed on the Nasdaq Composite (-0.3%) and the Russell 2000 (-1.3%).

Equity indices displayed strength in the early going with the S&P 500 tagging the 2,019 level during the opening 30 minutes of the action. However, ... More
More Market News