Why are there so many bad jobs?
The answer is a desperate labor force, but overqualified US workers already know that. One proposed solution, though, doesn't inspire much hope.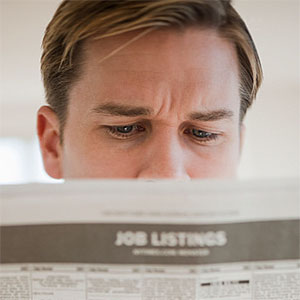 As Friday's
payroll report for August
makes painfully clear once again, it's beyond dispute that the glacial U.S. economic recovery has been a lousy time to look for a job.
The Center For Economic and Policy Research came up with a test to determine why that is and came up with the answer: Desperation. This is the part where much of the overqualified workforce slaps its collective forehead and wonders why that conclusion necessitated a test.
The U.S. has only one job available for every three people who apply. The economy has regained just 5.7 million of the 8.7 million jobs shed during the Great Recession, with 65% of those jobs of the low-wage variety -- despite the fact that nearly 60% of all jobs lost during the slump paid middle-income wages or better, according to the National Employment Law Project.
The most common job in America since the recession is in retail sales, where 4.3 million (greater than the population of Kentucky) make an average only $25,000 a year, well below the more than $45,000 national median wage. While college students are still far better off than their less educated peers, art school students and MBAs alike are being crushed by student debt. Deeply indebted doctorate recipients are seeking food stamps in increasing numbers. Roughly 284,000 college graduates are making minimum wage.
Apparently oblivious to all of that information, the folks at CEPR tried to determine whether the spate of bad jobs was a result of improving technology -- robots and computers muscling in on human turf -- or whether desperation is making people go after bad jobs they wouldn't consider otherwise.
In this view the bad jobs were always there, but most people had better alternatives so they didn't take them. What's changed from the period when we didn't see so many bad jobs is that we have a much weaker labor market. The weakness of the labor market is the key factor in this story.
We'll spare you the formula the CEPR used to reach this conclusion and, instead, skip to the group's conclusion and solutions. The gist? Tighten the labor market up a bit and boost wages:
In the weak labor market story the key is to boost demand. This can be done through government spending, reducing the trade deficit, or by redistributing work through work sharing. If the labor market tightens then people will be able to get better jobs. In fact, if the labor market tightens enough even the bad jobs will become better jobs. In a tight labor market employers will pay people much more to work in fast food restaurants or as retail clerks.
So there you have it. Calls for a $15 minimum wage for fast-food workers and better working conditions and pay for Wal-Mart (WMT) employees all fit snuggly within this grand scheme. Root on that weak jobs report, U.S. workers. By this logic, your big payday is just a few layoffs away.
DATA PROVIDERS
Copyright © 2014 Microsoft. All rights reserved.
Fundamental company data and historical chart data provided by Morningstar Inc. Real-time index quotes and delayed quotes supplied by Morningstar Inc. Quotes delayed by up to 15 minutes, except where indicated otherwise. Fund summary, fund performance and dividend data provided by Morningstar Inc. Analyst recommendations provided by Zacks Investment Research. StockScouter data provided by Verus Analytics. IPO data provided by Hoover's Inc. Index membership data provided by Morningstar Inc.
MARKET UPDATE
[BRIEFING.COM] The stock market finished the Thursday session on a higher note with the S&P 500 climbing 0.5%. The benchmark index registered an early high within the first 90 minutes and inched to a new session best during the final hour of the action.

Equities rallied out of the gate with the financial sector (+1.1%) providing noteworthy support for the second day in a row. The growth-oriented sector extended its September gain to 1.9% versus a more modest uptick of 0.4% for the ... More
More Market News