Why beer snobs are brawling over pumpkin ale
BeerAdvocate retweets an offhand criticism of the style and the Internet loses it. Are July releases and a fixation on spices fueling their anger?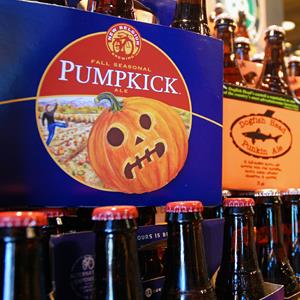 Has the national discourse sunk so low that even pumpkin ale is a polarizing topic?
The beer industry and, more specifically, the growing group of small brewers that make craft beer has been cranking out more of the seasonal brew in recent years. Meanwhile, the brewing calendar has shifted the release of the first pumpkin ales to July.
That hasn't sat well with some beer drinkers, especially after beer industry magazine, event organizer and ratings site BeerAdvocate (which includes this article's author as one of its writers) retweeted Firestone Walker Brewing Co. employee John Bryan's quip about the style from his @fancypantsbeer Twitter feed:
"Pumpkin beer is the modern day equivalent of the mullet. Everybody that brewed one will be ashamed of it in a decade."
When you get a concentration of beer lovers, beer geeks and outright beer snobs as high as the one regularly orbiting all things BeerAdvocate, you occasionally get bear-poking declarations like these. Sam Calagione, founder of Dogfish Head Brewery in Delaware, took to BeerAdvocate's forums last year to smack back posters who called his brewery and other larger craft breweries "overrated." Jim Koch, founder of Boston Beer Company (SAM) and its Samuel Adams brand, jumped into that same melee later that year.
The pumpkin beer battle grew so pitched, however, that all the pro-and-con sniping meandered over to BuzzFeed. That part was a bit embarrassing and forced Todd Alstrom -- who founded BeerAdvocate in Boston with his brother, Jason, in 1996 -- to admit that he "underestimated the passion for pumpkin beer that some of our followers have, and overestimated their sense of humor."
The fact that he also admitted he's pretty numb to beer fans overreacting online gives you some idea of just how long he's been dealing with that passionate, humorless base. Why they've decided to pick on pumpkin ales, however, is anyone's guess.
In truth, pumpkin ale is one of the oldest beers in the American brewing repertoire. Lisa Grimm at Serious Eats detailed its rise through the Colonial era, when malt was in short supply and pumpkin provided a strong source of fermentable sugars. One of the most heavily sourced recipes dates back to 1771, though the style died off in the 19th century.
Perhaps purists are put off by the pumpkin ales that lean heavily on pumpkin pie spices like nutmeg, cinnamon and ginger instead of actual pumpkin, as the pumpkin beer at Buffalo Bill's Brewery in Heyward, Calif., did when it revived the style in the 1980s. Though Brooklyn Brewery brought the pumpkin portion of the recipe when it introduced Post Road Pumpkin Ale in the '90s, there's still enough division between the pumpkin and pumpkin pie folks to prompt an adverse reaction to the other's beer.
There's also the not-so-small matter of the summer release dates of this popular fall seasonal. While beer drinkers bemoan the fact that summer seasonal beers start disappearing around August, there's a reason for the brewing calendar creep.

Beer brewers, especially small brewers, have extremely tight margins and don't like to have beer laying around when nobody wants it. Boston Beer's Koch notes that fans who love Samuel Adams' Old Fezziwig holiday brew just before the holiday season want nothing to do with it once the clock strikes midnight on New Year's Eve. Schlafly Brewing in St. Louis, Mo., meanwhile, was forced to run a detailed explanation of demand, yeast supply and storage constraints when defending the August release of its own pumpkin ale.
There's also the fact that pumpkin ale isn't exactly a novelty anymore. There were exactly seven pumpkin ales at the Great American Beer Festival a decade ago. At last year's event in Denver, there were 63.

Demand for pumpkin ale has grown so much within the past decade that Anheuser-Busch InBev (BUD) introduced Michelob Jack's Pumpkin Spice Ale in 2005 and MolsonCoors (TAP) countered with with Harvest Moon ale in 2006 before rebranding it as Harvest Pumpkin Ale last year, when it was on shelves by July. Samuel Adams, the largest craft brand in America, now brews its own Pumpkin Ale and toyed with a pumpkin stout before releasing its 8.5% alcohol by volume Fat Jack imperial pumpkin ale in 2011.
Brands that want an advantage release their pumpkin beers earlier, which is why Weyerbacher Brewing in Easton, Pa., Shipyard Brewing in Portland, Maine, and New Belgium Brewing in Fort Collins, Colo., all released their pumpkin ales by July. That may result in pumpkin ale fatigue by Thanksgiving and some residual beer snob resentment in the early summer, but that's the price pumpkin ale lovers pay to have an ample supply during Halloween. In the meantime, relax: It's just beer.
More on moneyNOW
DATA PROVIDERS
Copyright © 2014 Microsoft. All rights reserved.
Fundamental company data and historical chart data provided by Morningstar Inc. Real-time index quotes and delayed quotes supplied by Morningstar Inc. Quotes delayed by up to 15 minutes, except where indicated otherwise. Fund summary, fund performance and dividend data provided by Morningstar Inc. Analyst recommendations provided by Zacks Investment Research. StockScouter data provided by Verus Analytics. IPO data provided by Hoover's Inc. Index membership data provided by Morningstar Inc.
MARKET UPDATE
[BRIEFING.COM] The stock market finished an upbeat week on a mixed note. The S&P 500 shed less than a point, ending the week higher by 1.3%, while the Dow Jones Industrial Average (+0.1%) cemented a 1.7% advance for the week. High-beta names underperformed, which weighed on the Nasdaq Composite (-0.3%) and the Russell 2000 (-1.3%).

Equity indices displayed strength in the early going with the S&P 500 tagging the 2,019 level during the opening 30 minutes of the action. However, ... More
More Market News