Why college costs aren't as dire as you think
University educations are getting more expensive, but at an exaggerated rate when financial aid isn't considered.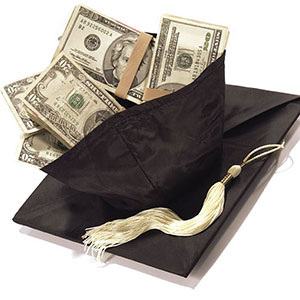 If there were a class called "College Costs 101," the first thing parents might learn is that the sticker price isn't the last word on tuition.

With financial aid thrown into the equation, the rise in the "actual cost" of a college education is far from the dire situation many believe, The New York Times reports.
The annual, inflation-adjusted, actual average increase for a private college is then just 1.6% above inflation, or about 4% per year, during the past two decades, The Times notes. At public colleges, it's a slightly higher 5% per year, given state budget cuts. Two-year community colleges have actually seen actual costs decline compared to inflation, at an annual rate of 0.3%. 
The increases don't include the impact of loans on a student's tuition and room and board, The Times adds.
Still, rising college costs are alarming the middle class, and many feel that the price of a university education has bounded out of reach. After all, while college costs have continued to rise, median household income has not: Americans still earn less than before the recession started in 2007. 
At the same time, students are taking on more loans. The class of 2011 is graduating with average debt of $26,600, a rise of 5.3% from a year earlier, according to the Project on Student Debt.
President Barack Obama is asking colleges to take steps to hold down costs. "We can't price the middle class and everybody working to get into the middle class out of college," he said at a speech on Thursday at the University of Buffalo.
Drilling down into the numbers illustrates that those increases aren't shared equally by all students. The bottom line is that the richest students, who get the least aid, are shouldering the burden of college price hikes, according to the public policy organization Demos, citing data from the College Board.
For the poorest students, the annual cost of college rose just $307 from 1992 to 2007, or 3.4%. But the cost of tuition and room and board jumped by $3,305, or 24.4%, for the richest students.
As Demos points out, because wealthier families are more politically connected than poorer ones, they're likely to create a louder backlash. In the end, that might help everyone if it leads to higher subsidies for public colleges. 
Follow Aimee Picchi on Twitter at @aimeepicchi.
DATA PROVIDERS
Copyright © 2014 Microsoft. All rights reserved.
Fundamental company data and historical chart data provided by Morningstar Inc. Real-time index quotes and delayed quotes supplied by Morningstar Inc. Quotes delayed by up to 15 minutes, except where indicated otherwise. Fund summary, fund performance and dividend data provided by Morningstar Inc. Analyst recommendations provided by Zacks Investment Research. StockScouter data provided by Verus Analytics. IPO data provided by Hoover's Inc. Index membership data provided by Morningstar Inc.
MARKET UPDATE
[BRIEFING.COM] The S&P 500 (-0.1%) continues hovering below its flat line, while the Nasdaq (+0.1%) has poked its head into positive territory.

The tech-heavy index has received a measure of support from biotechnology as evidenced by a 0.4% advance in the iShares Nasdaq Biotechnology ETF (IBB 273.52, +0.97%). As for top-weighted components, Apple (AAPL 102.29, +1.23) sports a solid gain of 1.2%, while the likes of Microsoft (MSFT 46.86, -0.20), Intel (INTC ... More
More Market News