Why fewer Americans are now homeless
The country has witnessed a surprising 17% decline from 2005, thanks to effective federal programs -- which are now threatened.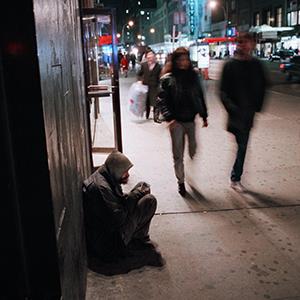 Even as many Americans continue to struggle amid a tepid economic recovery, there's one piece of good news about some of the country's poorest citizens. That's the startling decline in homelessness during the past decade. 

The number of homeless Americans fell to about 634,000 individuals last year, or a 17% drop from roughly 763,000 in 2005, according to a study from the National Alliance to End Homelessness. 
The decline may be even more striking given the negative trends crimping Americans' pocketbooks. The unemployment rate stands at 7.4%, still well above the 5% rate enjoyed during the summer of 2005.
What's the reason for the decline in homelessness? It started with President George W. Bush's "housing first" program, which addressed the problem by aiming to provide shelter to the homeless before dealing other issues, such as substance abuse, The Atlantic notes.
Then the stimulus package in 2009 passed right after Barack Obama took office dedicated a $1.5 billion program geared to solving the problem, and the Obama administration in 2010 announced a 10-year federal plan to eradicate the issue, The Atlantic adds. 
But clouds may be gathering. Sequestration has led to cuts in the Department of Housing and Urban Development, which will affect more than 100,000 homeless and formerly homeless people, according to the National Alliance to End Homelessness.
It's possible that the hard-won gains against homelessness might be lost because the spending reductions will require some of beneficiaries to be moved from housing or shelter programs, the group notes. 
At the same time, some communities are expressing greater intolerance toward the homeless. Witness Columbia, S.C. That town has approved a plan to sweep homeless people out of sight by giving them a choice: either go to jail, or to a shelter on the edge of town. 
But Columbia isn't an outlier, given that more cities are enacting ordinances to criminalize homelessness. Between 2009 to 2011, laws against camping in public spaces increased by 7%, according to the National Law Center on Homelessness & Poverty.
But as some homeless advocates point out, criminalizing the problem may only make it harder for those people to get a foothold in the economy -- and lead to another cycle of homelessness.
Follow Aimee Picchi on Twitter at @aimeepicchi.
DATA PROVIDERS
Copyright © 2014 Microsoft. All rights reserved.
Fundamental company data and historical chart data provided by Morningstar Inc. Real-time index quotes and delayed quotes supplied by Morningstar Inc. Quotes delayed by up to 15 minutes, except where indicated otherwise. Fund summary, fund performance and dividend data provided by Morningstar Inc. Analyst recommendations provided by Zacks Investment Research. StockScouter data provided by Verus Analytics. IPO data provided by Hoover's Inc. Index membership data provided by Morningstar Inc.
MARKET UPDATE
[BRIEFING.COM] The stock market welcomed the new trading week with a mixed session that saw relative strength among large-cap stocks, while high-beta names underperformed. The Dow Jones Industrial Average (+0.3%) and S&P 500 (-0.1%) finished near their flat lines, while the Nasdaq Composite and Russell 2000 both lost 1.1%.

Equities began the day on a cautious note amid continued concerns regarding the strength of the global economy. Over the weekend, China reported its first decline ... More
More Market News