Why marijuana taxes are such a burning question
As Colorado struggles for an answer, pot advocates say too many levies could drive users back to the black market.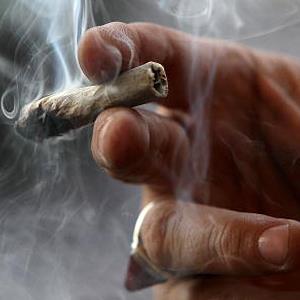 How much should legal, nonmedical marijuana be taxed? That's the question state and local lawmakers are now considering in Colorado, where voters last year agreed to allow the sale of marijuana for recreational use by adults starting in 2014.
The state is seen as a test lab for a lot of decisions surrounding the future of marijuana as a legal industry. In November, Colorado voters will decide on a proposed 15% excise tax, plus a 10% state sales tax, on all retail cannabis sales.
In addition, Denver might levy its own 5% tax on pot sales made within the city. City officials say that 5% tax, along with other fees and state revenue, could add over $9 million annually to Denver's coffers.
But advocates for legal marijuana say excessive taxes will drive people away from state-controlled cannabis and back to the black market.
"When you start thinking about it, in terms of what that's going to do to the cost to the consumer for cannabis, it's pretty ridiculous," says "William Breathes" -- the pen name for the marijuana industry columnist at Westword, Denver's weekly alternative paper. He also writes the very popular "Ask a Stoner" advice column.
Breathes says the current, average rate for an ounce of good marijuana in Colorado is about $200, and even at the state's legal medical marijuana clinics, the best quality cannabis is rarely above $300 an ounce, tax included.
In the Colorado counties that plan to allow the sale of recreational marijuana, he says, "it's like a bunch of hungry dogs looking at a steak, licking their lips" as they contemplate their revenue from future cannabis sales.
So, taxes that could add up to 40% on those prices, he says, might hinder recreational pot sales. "Why not start (cannabis taxes) at the lowest possible levels here, get the industry off the ground first," he suggests, "and then start talking about what else can we do with it?"
Colorado lawmakers admit they're breaking new ground with these proposed cannabis taxes.
"This is going to take a couple years of experience before we're really going to have a clear understanding on both the revenue side as well as the expenditure side," Denver chief financial officer Cary Kennedy told the Denver Post.
"I get taxing vices, I understand it. That's what we do in our society," says Breathes. "But to come out swinging this hard (with all these proposed taxes) ... it's been a little unbelievable."
DATA PROVIDERS
Copyright © 2014 Microsoft. All rights reserved.
Fundamental company data and historical chart data provided by Morningstar Inc. Real-time index quotes and delayed quotes supplied by Morningstar Inc. Quotes delayed by up to 15 minutes, except where indicated otherwise. Fund summary, fund performance and dividend data provided by Morningstar Inc. Analyst recommendations provided by Zacks Investment Research. StockScouter data provided by Verus Analytics. IPO data provided by Hoover's Inc. Index membership data provided by Morningstar Inc.
MARKET UPDATE
[BRIEFING.COM] The S&P 500 trades lower by 0.4%, while the Russell 2000 (-0.9%) underperforms.

Just reported, existing home sales hit an annualized rate of 5.05 million units in August, while the Briefing.com consensus expected a reading of 5.20 million. The pace for August was up from the prior month's revised rate of 5.14 million units (from 5.15 million). Nasdaq -26.88 at 4552.91... NYSE Adv/Dec 559/2272... Nasdaq Adv/Dec 561/1935.
More Market News