Why the government is hoarding raisins
Yep, a national raisin reserve exists. It all goes back to a program created more than 60 years ago, and farmers are going to court protesting the rules.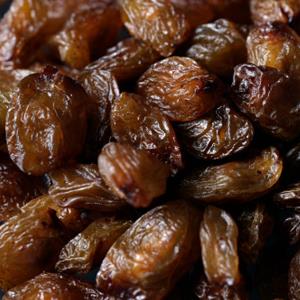 Kindergartners and scone makers can breathe easy, because the U.S. government is watching your raisins.
The government is actually doing much more than watching them. It's seizing them from farmers, often without paying. It's hoarding them in warehouses in California in case the nation's raisin supply veers too far from the norm.
All for a little-known storage called the national raisin reserve. It stems from a farm program created during after World War II that continues today, The Washington Post
reports
.
The government monitors the nation's raisin supply in case farmers produce too much. If there was an abundance of raisins, see, prices would fall and raisin farmers would suffer. So to keep the raisin farmers happy, the government stabilizes supply.
But the problem is that farmers are anything but happy. That's because in the good years, when there are too many raisins being produced, the government seizes a portion of every farmer's supply, often without paying, according to The Post.
Farmers are protesting this outdated policy, and one case went all the way to the Supreme Court this year. The justices told a lower court that had previously rejected one farmer's challenge to take another look.
The raisin reserve took hold after the war, when the government stopped sending vast supplies of raisins overseas with soldiers, The Post reports. The industry was in turmoil when the government cash stopped coming in.
The nation has long moved on from the business tumult caused by World War II. But the government has not, even though farmers' dried grapes are turning into sour grapes.
DATA PROVIDERS
Copyright © 2014 Microsoft. All rights reserved.
Fundamental company data and historical chart data provided by Morningstar Inc. Real-time index quotes and delayed quotes supplied by Morningstar Inc. Quotes delayed by up to 15 minutes, except where indicated otherwise. Fund summary, fund performance and dividend data provided by Morningstar Inc. Analyst recommendations provided by Zacks Investment Research. StockScouter data provided by Verus Analytics. IPO data provided by Hoover's Inc. Index membership data provided by Morningstar Inc.
MARKET UPDATE
[BRIEFING.COM] S&P futures vs fair value: +7.80. Nasdaq futures vs fair value: +15.50. The stock market is on track for an upbeat start as futures on the S&P 500 trade eight points above fair value. Index futures spent the Asian session near their flat lines, but lifted off once European markets opened for action. The old continent will be in the spotlight until tomorrow with the Scottish independence referendum taking place today. However, Dundee and Glasgow are not expected to ... More
More Market News