Why this fast-food chain offers amazing benefits
Its $10 hourly starting wage and generous perks aim to educate employees so they'll ultimately leave for better jobs.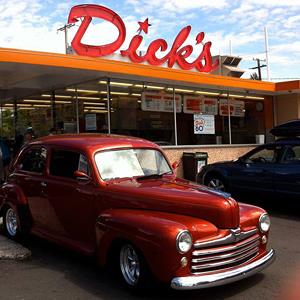 Yes, there are fast-food restaurants in the U.S. that have no problem paying well above the minimum wage and offering employee benefits. No, they don't all think what works for them will work for the entire industry.
We've previously shared the stories of Detroit-area burger chain Moo Cluck Moo, which recently raised its minimum wage to $15 an hour.

Meanwhile, companies including In-N-Out Burger ($10.50 an hour starting wage) and Pacific Northwest chain Burgerville (health care for employees working 25 hours a week or more) have made the case big-chain customers aren't getting much for their money. Those examples are part of the reason the $15-an-hour figure has galvanized fast-food workers and inspired strikes and walkouts nationwide.
Dick's Drive-In, based in Seattle, realizes its own generous pay and benefits just might be a tough fit elsewhere. In a conversation with The Seattle Times, 90-year-old founder Dick Spady's son, Jim, explained that his chain had to meet a number of targets before providing its 180 employees at six stores a starting wage of $10 an hour, merit raises, employer-paid insurance, scholarships, a 401k retirement program with employer match, paid time for volunteer service and up to three weeks paid vacation.
"Among his special rules is you should make decisions for the long run so long as you can survive in the short run. The No. 1 job of a business is to make a profit. If you don't, it's not worth anything. No. 2 thing is to take care of your people. They're the key to success," he said. "So once you've taken care of your people and you're making a profit, you should make an investment in your community. And if you have a healthy community, you'll have a good business in the long run."
The key to the Spadys' plan isn't the starting pay figure, which isn't much more than Washington state's $9.19 minimum wage. It's giving people the skills they need to be upwardly mobile by making better business decisions, such as buying restaurant space rather than leasing it. The goal is to get employees out the door and on to something better, which is where the scholarship money comes in.
"You want the best employees? You should expect the best benefits," Jim Spady told The Times. "Both of my parents were the first in their extended families to go to college, so they've been pro-education since."
In the current economic environment, that $10 an hour doesn't exactly hurt, either. Among U.S. minimum-wage earners, more than 280,000 of them are college graduates. The Center For College Affordability and Productivity reported that nearly half of the college graduates from the class of 2010 are working in jobs that don't require a bachelor's degree. A full 38% have taken gigs that don't even require a high school education.
According to The Associated Press, that has dropped the median wage for college graduates significantly since 2000 -- just as those same graduates are getting crushed by record-high tuition and debt.


In that scenario, even Bloomberg Businessweek suggests that $10.50 an hour may be the most reasonable place to start the minimum wage discussion.
Dick's Drive-In is making a big starting wage work, but it has the funds to do so. Jim Spady worries that smaller businesses without such capital wouldn't be able to launch with $15-an-hour minimum wages. If they were, he says, they'd have to automate much of their production and hire only the top workers to run their counter.

That, he says, would put lower-tier employees out of work and defeat the purpose of the benefits Dick's put in place.
"The way to improve the wages of the poorest people is to encourage them to upgrade their skills, not to pass a law that requires we pay X dollars an hour," Spady says. "Governments can pass laws, but they can never repeal the law of supply and demand."

Excellent & Outstanding example of real Leadership, "Dick's" son, Jim..!! 
  If this works for your company, Why can't it work for MANY others? ..if not almost* All? (There's really only ONE reason...*). Even though I don't work there, or even Live in the state*.. Thank You* for at least showing, and Explaining*, How & Why* this SHOULD be done!!

Sincere KUDOS!!


Are you sure you want to delete this comment?
DATA PROVIDERS
Copyright © 2014 Microsoft. All rights reserved.
Fundamental company data and historical chart data provided by Morningstar Inc. Real-time index quotes and delayed quotes supplied by Morningstar Inc. Quotes delayed by up to 15 minutes, except where indicated otherwise. Fund summary, fund performance and dividend data provided by Morningstar Inc. Analyst recommendations provided by Zacks Investment Research. StockScouter data provided by Verus Analytics. IPO data provided by Hoover's Inc. Index membership data provided by Morningstar Inc.
MARKET UPDATE
[BRIEFING.COM] The stock market finished an upbeat week on a mixed note. The S&P 500 shed less than a point, ending the week higher by 1.3%, while the Dow Jones Industrial Average (+0.1%) cemented a 1.7% advance for the week. High-beta names underperformed, which weighed on the Nasdaq Composite (-0.3%) and the Russell 2000 (-1.3%).

Equity indices displayed strength in the early going with the S&P 500 tagging the 2,019 level during the opening 30 minutes of the action. However, ... More
More Market News