Will 2013 mark record gun sales in US?
Background-check data suggests Americans are buying firearms at an unprecedented pace.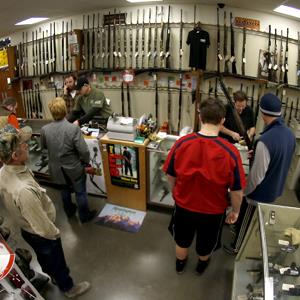 Will 2013 be a record year for U.S. gun sales? There's a lot of evidence suggesting as much.

Despite stepped-up campaigns by gun control advocates in the wake of mass shootings at a movie theater in Aurora, Colo. -- which took place one year ago July 20 -- and an elementary school in Newtown, Conn., the U.S. appears to be entering a new normal when it comes to gun purchases.
The National Instant Criminal Background Check System statistics compiled by the FBI tell at least part of the story. The system is used by federally licensed firearms dealers and manufacturers, but it doesn't distinguish between a firearms check and a firearms sale.
The number of annual background checks run in the U.S. began to jump in 2006 after plateauing at around 8.5 million in the early 2000s. There were 16.4 million checks in 2011 and nearly 19.6 million last year.

Those checks could hit a record in 2013, judging from the more than 11.4 million that were run in the first six months alone.

In gun-friendly states, meanwhile, sales figures appear to be very strong. The Salt Lake Tribune reports gun purchases made in Utah during the first quarter of 2013 were double the prior decade's average -- while applications for concealed-weapons permits have "leapt off the charts."


It also appears to be a banner year for firearms manufacturers. Just last month, Smith & Wesson (SWHC), announced record financial results for fiscal year ended in April.
In a press statement, CEO James Debney said Smith & Wesson's successful performance was "driven by solid marketing, innovative new products, disciplined manufacturing execution, and strict financial management."
Another major U.S. firearms manufacturer, Sturm Ruger & Co. (RGR) is scheduled to report its second-quarter results on Wednesday.
Part of this national rise in sales can be attributed to the Obama Administration's attempt to reform federal firearms regulations. But there's also a phenomenon that seems to appear after every high-profile shooting -- a spike in gun sales amid new calls for gun control.
"Normally what happens -- and I've been doing this for 30 years -- is whenever they start talking about gun control on the news and they start pushing that, people have a tendency to think they're going to take away their right to buy the gun, and that usually spurs sales," Paul Decker, owner of Hunters Heaven in Hayes, Va.. told the Christian Science Monitor last year, right after the Aurora shootings.
DATA PROVIDERS
Copyright © 2014 Microsoft. All rights reserved.
Fundamental company data and historical chart data provided by Morningstar Inc. Real-time index quotes and delayed quotes supplied by Morningstar Inc. Quotes delayed by up to 15 minutes, except where indicated otherwise. Fund summary, fund performance and dividend data provided by Morningstar Inc. Analyst recommendations provided by Zacks Investment Research. StockScouter data provided by Verus Analytics. IPO data provided by Hoover's Inc. Index membership data provided by Morningstar Inc.
MARKET UPDATE
[BRIEFING.COM] S&P futures vs fair value: -5.50. Nasdaq futures vs fair value: -13.00. Nasdaq at... NYSE Adv/Dec 0/0... Nasdaq Adv/Dec 0/0.
More Market News