Women driving new sales for Porsche
The luxury automaker's sales to female buyers have doubled in the US over the past 2 years and now make up 15% of overall sales in North America.
Porsche is off to a strong 2013, with year-to-date sales already up by 30%. Some of that growth may come from longtime customers who know the company produces reliable, well-engineered machines.
But those aren't the only people buying.
"One factor is that we're seeing more women buying and driving Porsches," CNBC's Phil LeBeau reported Friday.
Porsche sales to women have doubled in the U.S. over the past two years and now make up 15% of overall sales in North America.
The company has expanded its marketing to women, LeBeau said. Rather than directly targeting them, Porsche is broadening its advertising into new publications and media to grow brand recognition.
LeBeau said more women may discover the brand because of its SUV and the new Macan CUV that's coming out next year. "It may not be perceived as a woman's car, but increasingly it is," he said.
The report showed Chicago resident Jody Verson driving a white Porsche Cayenne.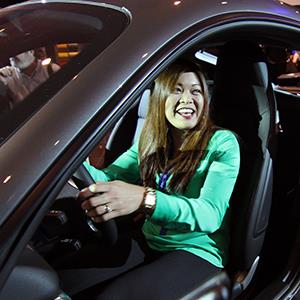 "My image of Porsche was a fast car for guys to drive that should probably be on a race track, not really a woman's car," she said in the report.
Porsche is not the only luxury manufacturer whose sales are up this year. Lamborghini's sales increased by 34.9%, Ferrari's by 14.1% and Bentley's by 9.7% year to date, according to the report.
Faris Nijim, a sales manager at the Porsche Exchange in Chicago, said women are evaluating several luxury brands.
"What we see in the last year here at the Porsche Exchange is . . . women coming in not only with their husbands but alone, on their own, as the primary decision maker," he said.
There's a common misconception that Porsches are for middle-aged guys who want to show off their wealth, LeBeau said.
"The truth of the matter is they have been ranked at the top of J.D. Power reliability surveys for a number of years," he said. They are "well-engineered, great-handling vehicles."
Porsche also earned the highest score in an owner satisfaction survey from J.D. Power's this week. It topped the list last year as well.

Whether it's a reflection of the current time as Men are not the percent of the Workforce they once were or Women or plain changing, Females are certainly going big for Luxury Cars these days. And it's not just for Porsche either. You will find a huge number of Women buying BMWs and Mercedes these days. Women use to not waste money on expensive cars, those days have changed in a big way. It made little sense for Men to spurge on something that quickly looses it value, now more and more women have fallen into the same trap.

Funny how some say we are in the Worst Economy Ever yet all the Luxury Car Makers are having Record Sales.



@ not simple    "fixed assets" ??? Most of the luxury brands, despite their starting prices, lose 50% by the third year if it takes that long. The people making these purchases are 'not' remotely thinking that these purchases are a hedge against a market crash. If anything, they would at least be buying these cars 3 years old and saving half the $$$: if the market does crash, and they have cash, they'll be buying them for pennies on the dollar !!!

True, China is boosting total Global sales. However, fact is, Luxury Brands, they all are having RECORD year over year vehicle sales in North America, outside of sales in China. Fact is, the Rich and the Elite are doing extremely well while crapping on the rest of us. Feed the 1% at the expense of everyone else. How's that working out for the average American?


I thought that women were farther behind in their saving for retirement than men were?  It seems to me that since they need to start preparing for a better financial future, that the last thing on their minds would be to purchase an expensive car.  Since I am a man, I guess the belief that "men will never be able to understand women" is really true............
Are you sure you want to delete this comment?
DATA PROVIDERS
Copyright © 2014 Microsoft. All rights reserved.
Fundamental company data and historical chart data provided by Morningstar Inc. Real-time index quotes and delayed quotes supplied by Morningstar Inc. Quotes delayed by up to 15 minutes, except where indicated otherwise. Fund summary, fund performance and dividend data provided by Morningstar Inc. Analyst recommendations provided by Zacks Investment Research. StockScouter data provided by Verus Analytics. IPO data provided by Hoover's Inc. Index membership data provided by Morningstar Inc.
MARKET UPDATE
[BRIEFING.COM] The stock market finished an upbeat week on a mixed note. The S&P 500 shed less than a point, ending the week higher by 1.3%, while the Dow Jones Industrial Average (+0.1%) cemented a 1.7% advance for the week. High-beta names underperformed, which weighed on the Nasdaq Composite (-0.3%) and the Russell 2000 (-1.3%).

Equity indices displayed strength in the early going with the S&P 500 tagging the 2,019 level during the opening 30 minutes of the action. However, ... More
More Market News