Working for a dollar store is no bargain
The lowest-price retailers' business model requires keeping labor costs so lean that fast-food workers seem to have it good.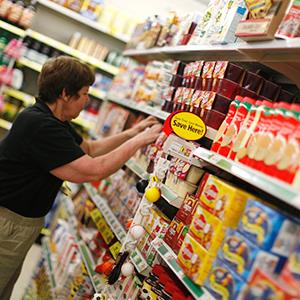 As
fast-food workers strike
and superstore salespeople increasingly
embrace similar action
, a good number of the retail workforce consider those jobs fairly cushy compared with the ones they hold.
In an American workplace where 4.3 million people labor as retail salespeople – making an average of $25,000 a year -- and an additional 3.3 million work as cashiers, dollar-store workers occupy the low tiers of each of those professions. That tier is steadily growing, however, as the domestic economy has regained just 5.7 million of the 8.7 million jobs shed during the Great Recession. Roughly 65% of those jobs are of the low-wage variety -- even though nearly 60% of all jobs lost during the slump paid middle-income wages or better, according to the National Employment Law Project.
As The Huffington Post points out, the number of dollar stores in the U.S. has roughly doubled over the past decade as cash-strapped consumers seek out ever-cheaper prices. There are now nearly 25,000 nationwide, according to the brokerage firm Sterne Agee. That's approximately five dollar stores in the U.S. for every Wal-Mart (WMT).
Dollar General (DG), Family Dollar (FDO) and Dollar Tree (DLTR) are on pace to open one new store every six hours this year, according to Sterne Agee's analysis, and they now employ more than 220,000 full-time and part-time U.S. workers. Dollar General alone has 90,000 employees.

Those stores play it close to the margins to keep costs down for the typical customers, who make $40,000 a year or less, Dollar Tree management says. When there's a bump in gasoline prices or payroll taxes, both of which Levine cited for soft sales, Family Dollar customers cut back on the extras and stick to necessities. In 2011, for example, groceries made up 70% of all Family Dollar purchases, up from 61% five years earlier.
As a result, managers' quarterly bonuses hinge on keeping stores profitable at minimal cost. Those bonuses are no small deal for managers making average salaries in the
mid- to high $30,000s
, which is less than half the salary of their counterparts at Wal-Mart, according to salary data from Glassdoor.com.
That means dollar store managers are stingy with the hours they give part-time workers, and they extend their own hours to handle whatever work remains. That has resulted in more than 30 federal wage-and-hour lawsuits filed against the large dollar store chains since 2010.
For the chains, that's built into their business plan. Earlier this year, 6,000 Dollar Tree workers joined a lawsuit against the company, claiming they were required to clock out for breaks but had to continue working unpaid anyway. Female managers sued the company in a class action alleging Dollar Tree systematically underpaid them compared with male counterparts. The case was settled for $19 million last year.
"The number of employment-related class actions filed each year has continued to increase," Dollar General, which had sales of $16 billion last year, wrote in its 2010 annual report.

That's to be expected when those are the retailers of choice in the dollar store belt that stretches from Indiana and Ohio south to the Gulf Coast. West Virginia and Mississippi -- two of the poorest U.S. states -- also have the greatest number of dollar stores per capita, according to an analysis by Martin Prosperity Institute.

DATA PROVIDERS
Copyright © 2014 Microsoft. All rights reserved.
Fundamental company data and historical chart data provided by Morningstar Inc. Real-time index quotes and delayed quotes supplied by Morningstar Inc. Quotes delayed by up to 15 minutes, except where indicated otherwise. Fund summary, fund performance and dividend data provided by Morningstar Inc. Analyst recommendations provided by Zacks Investment Research. StockScouter data provided by Verus Analytics. IPO data provided by Hoover's Inc. Index membership data provided by Morningstar Inc.
MARKET UPDATE
[BRIEFING.COM] The stock market began the new week on a cautious note. The S&P 500 lost 0.3%, but managed to erase more than half of its opening decline. Thanks to the rebound, the benchmark index reclaimed its 50-day moving average (1976.78) after slipping below that level in the morning.

Equities slumped at the open amid a couple global developments that dampened the overall risk appetite. Continued student protests in Hong Kong and a potential response from China weighed on the ... More
More Market News