Would Keystone XL pipeline raise US gas prices?
That's what a consumer advocacy group argues, adding the project would mostly benefit multinational oil giants.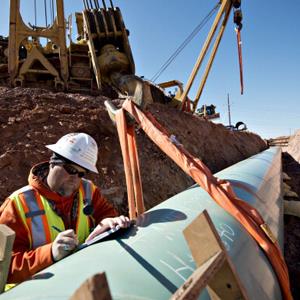 Who actually benefits from the proposed Canada-to-U.S. Keystone XL pipeline?
TransCanada (TRP) says the planned, 1,179-mile-long pipeline would be able to move 830,000 barrels of oil daily from Alberta's tar sands, as well as from producers in the booming Bakken formation oil fields of North Dakota and Montana, to the Gulf Coast and Midwestern refineries.

On its website, TransCanada proclaims the Keystone XL "will be the safest and most advanced pipeline operation in North America. It will not only bring essential infrastructure to North American oil producers, but it will also provide jobs, long-term energy independence and an economic boost to Americans."
But U.S. consumer advocate organization Consumer Watchdog begs to differ. Its latest report claims the Keystone XL pipeline will end up raising gasoline prices by up to 40 cents per gallon for U.S. drivers -- especially in the Midwest -- while having no long-term economic benefits for the U.S. economy.
Much of the Canadian oil in the pipeline, according to the report, would go "directly to Gulf Coast refineries owned by the same multinational companies investing in the tar sands," companies including Exxon Mobil (XOM), Chevron (CVX), Koch Industries, Marathon Oil (MRO) and Shell Oil (RDS/A). And those refineries, Consumer Watchdog says, would turn the crude in gasoline and diesel fuel for export.
"A vote for Keystone is a vote to raise gas prices on Americans and send the profits to a foreign oil company," billionaire Thomas Steyer, founder of Farallon Capital Management and an alternative energy advocate and investor, commented in Consumer Watchdog's press statement.
"The Consumer Watchdog reports makes clear that the Keystone XL Pipeline will lead to higher prices for American drivers at the pump," he said, "and increased profits for foreign oil interests at a time when our U.S. economy is still in recovery."
The Canadian government has made no bones about the importance of the Keystone XL to help export Canadian oil to non-U.S. markets. The Huffington Post quoted Alberta Energy Minister Ken Hughes saying the pipeline will help his nation "diversify away from the single continental market and be part of the global market."
The Obama Administration isn't expected to make a decision on the Keystone XL pipeline until later this year or perhaps in early 2014. "The president has to be able to show that the administration looked under every stone to ensure it knew as much as it possibly could about the impact of Keystone," an unnamed U.S. official recently told Reuters.
DATA PROVIDERS
Copyright © 2014 Microsoft. All rights reserved.
Fundamental company data and historical chart data provided by Morningstar Inc. Real-time index quotes and delayed quotes supplied by Morningstar Inc. Quotes delayed by up to 15 minutes, except where indicated otherwise. Fund summary, fund performance and dividend data provided by Morningstar Inc. Analyst recommendations provided by Zacks Investment Research. StockScouter data provided by Verus Analytics. IPO data provided by Hoover's Inc. Index membership data provided by Morningstar Inc.
MARKET UPDATE
[BRIEFING.COM] The S&P 500 (-0.4%) remains near its low and is facing a bit of a challenge as five sectors display relative weakness, leaving the energy sector (-0.1%) as the top performer. The sector has received a measure of support from crude oil, which is higher by 0.9% at $91.73/bbl.

Elsewhere among commodities, gold futures ended the pit session with a gain of 0.3% at $1222.10/ozt, while silver and copper settled little changed at $17.78/ozt and $3.04/lb, respectively. ... More
More Market News