Your bailout money bought this banker a condo
Darryl Lane Woods has pleaded guilty to spending $381,000 in TARP funds on a waterfront spot in Florida.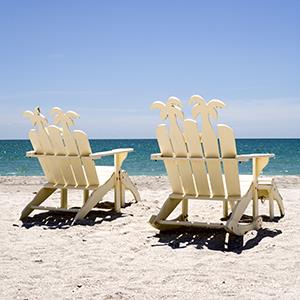 Don't worry, U.S. taxpayers: Darryl Lane Woods was just getting around to thanking you for the luxury condominium he bought in 2009. The
Justice Department
just cut him off first.
Woods, the chairman of Mainstreet Bank in Columbia, Mo., pleaded guilty on Monday to using bailout funds from the Troubled Asset Relief Program to purchase the condominium, according to a press release issued by U.S. Attorney Tammy Dickinson.

In January 2009, his bank received a cash infusion of more than $1 million from the federal government. Less than a month later, Woods turned around and spent more than $381,000 of those funds on a seaside condo in Ft. Myers, Fla.
"At a time when many other Americans were losing their homes, he was siphoning off public funds to buy a luxury vacation condo in Florida," Dickinson said.
TARP gave banks and other financial institutions $600 billion to stabilize themselves in the wake of the financial crisis. Taxpayers are still short roughly $59 billion as banks, lenders and other companies slowly pay back what they owe.
In Woods' case, he flat-out lied to regulators about how the money was used, according to Christy Romero, a special inspector general for TARP. When the agency told Mainstreet Bank to disclose how it spent TARP funds, Romero said, the "bank Chairman and CFO Woods failed to tell the truth."
Under the terms of Woods' plea agreement, he's required to leave the banking industry and may not serve as an officer, director, employee or affiliated party of any financial institution or agency. The government, in turn, agreed not to bring any charges against his wife, Jackie Woods (Ralston), for any criminal offenses the government uncovered during the investigation.
Under federal statutes, Woods faces up to a year in federal prison without parole, plus a fine of up to $100,000 and an order of restitution. He'll be sentenced later, though he'll have spent more time at his lovely little taxpayer-funded hideaway in Ft. Myers than he ever will in prison.

Consider it a second-home loan: You know, like the kind that's infinitely tougher for the average taxpayer to get, thanks to folks like Woods.
DATA PROVIDERS
Copyright © 2014 Microsoft. All rights reserved.
Fundamental company data and historical chart data provided by Morningstar Inc. Real-time index quotes and delayed quotes supplied by Morningstar Inc. Quotes delayed by up to 15 minutes, except where indicated otherwise. Fund summary, fund performance and dividend data provided by Morningstar Inc. Analyst recommendations provided by Zacks Investment Research. StockScouter data provided by Verus Analytics. IPO data provided by Hoover's Inc. Index membership data provided by Morningstar Inc.
MARKET UPDATE
[BRIEFING.COM] The stock market began the new week on a cautious note. The S&P 500 lost 0.3%, but managed to erase more than half of its opening decline. Thanks to the rebound, the benchmark index reclaimed its 50-day moving average (1976.78) after slipping below that level in the morning.

Equities slumped at the open amid a couple global developments that dampened the overall risk appetite. Continued student protests in Hong Kong and a potential response from China weighed on the ... More
More Market News