Twinkies will be back -- eventually
The iconic snack food will still have a place on grocery store shelves. How and when are still unclear, though.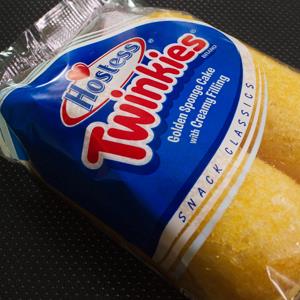 Snack food lovers, great news: Twinkies are coming back. The details haven't quite been hammered out yet, however.
"Somebody's going to make Twinkies -- that's not a concern," an anonymous source close to negotiations surrounding Hostess Brands
told
The Washington Post. "The question is who and how." 
Twinkie the Kid, the creamy sponge cake's longtime mascot, rode off into the sunset in November when Hostess announced it was shutting its doors after failing to resolve a dispute with its unionized workforce. About 18,000 people lost their jobs.
The business is being sliced up. More than a dozen firms have submitted bids for Hostess' bread business. The snack line, which also includes Yodels, Ring Dings and Devil Dogs,  will sell as well -- though it isn't clear who might buy it.  Little Debbie is not owned by Hostess as an earlier version of this post reported.
The creamy sponge cake has been a staple of the American diet since 1930. It also is an iconic brand, and those don't come on the market that often. Though people may have fond memories of Twinkies, that hasn't translated into sales. According to the Post, Twinkies sales last year were only about $74 million -- small potatoes for Hostess' $1 billion snack business.
Mexico's Grupo Bimbo, the world's largest breadmaker and the parent of Entenmann's, may be a potential Twinkie bidder along with
Flowers Foods
(
FLO
), the second-largest U.S. maker of baked goods. A Grupo Bimbo spokesman declined to comment. Flowers Foods agreed
earlier this month
to acquire Wonder, Nature's Pride and three other Hostess bread brands for $360 million. Among Flowers' other brands are Tastykake, a Philadelphia snack company that the company acquired in 2011. A spokesman for Flowers couldn't immediately be reached.

--Jonathan Berr does not own shares of the listed stocks.  Follow him on Twitter @jdberr.
Post was corrected at 10:13 AM on January 28 to remove erroneous suggestion that Hostess owns Little Debbie.
More on moneyNOW
About moneyNOW
MoneyNOW brings users smart, original and entertaining takes on the latest business and investing topics that are buzzing on the Web.
MARKET UPDATE
[BRIEFING.COM] The major averages continue to trade near their recent levels as today's session enters its final hour.

In the foreign exchange market, the Dollar Index remains in negative territory as a sleepy session drifts towards the finish line. Today's action has been limited to a 30 cent range, with current trade taking place near the middle of the range at 83.60. The Swiss franc and the Japanese yen have been the biggest beneficiaries of today's dollar weakness.

The USDCHF ... More
More Market News
TOP STOCKS
Shell out now for Shell
It will benefit big time from rising natural gas prices and the shale boom, pays a generous dividend, and is a bargain compared to its peers.