Big government under Obama? Not so much
The number of public sector jobs has shrunk by more than 700,000 on his watch. It grew by 1.75 million during George W. Bush's terms. Here's why.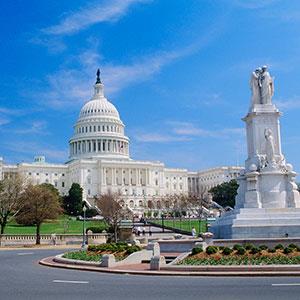 While Democrats are thought to be proponents of "big government," some new data about public sector employment during President Barack Obama's tenure is shedding surprising light on the subject. 

Public sector jobs -- positions in federal, state and local government -- have declined by 718,000 jobs since Obama took office, according to the economics blog Calculated Risk. 
Under his Republican predecessor, President George W. Bush, the number of public sector jobs swelled by 1.75 million, the blog found. 
There's a big caveat with the findings, though. Most of the public sector jobs lost during Obama's tenure are due to cutbacks at the state and local level, the study notes. While reductions in federal spending might have affected state and local employment, the decisions to reduce headcount would have been made at those local levels.
On the jobs front, that disparity in public sector employment has marked one of the contrasts between the recovery seen under Bush, who took office as the bursting of the dot-com bubble sparked a recession, and that of Obama, who took office as the Great Recession was leading to foreclosures and layoffs. 
As for private sector jobs, a net 665,000 were lost during Bush's two terms. The recovery has also been sluggish under Obama, but the country has added 2.28 million private-sector jobs since he took office, the report notes. Some big companies that are hiring include Oracle (ORCL), Dell (DELL) and Amazon.com (AMZN), Business Insider recently reported. 
The trend of fewer government jobs under Obama has been noted previously. According to a January 2012 piece in The New York Times by Floyd Norris, government employment has declined in only six years.
Those happened in 1981, 1982 and 1983 -- the first three years of the Reagan administration -- and in 2009, 2010 and 2011, Norris wrote. The more recent drops represent the first three years of the Obama administration and this trend has extended into 2012, according to Calculated Risk. 
While Obama might not be content with the public-sector job losses, it doesn't appear that big government is getting any bigger under his watch, at least when it comes to employment. 
Follow Aimee Picchi on Twitter at @aimeepicchi. 
DATA PROVIDERS
Copyright © 2014 Microsoft. All rights reserved.
Fundamental company data and historical chart data provided by Morningstar Inc. Real-time index quotes and delayed quotes supplied by Morningstar Inc. Quotes delayed by up to 15 minutes, except where indicated otherwise. Fund summary, fund performance and dividend data provided by Morningstar Inc. Analyst recommendations provided by Zacks Investment Research. StockScouter data provided by Verus Analytics. IPO data provided by Hoover's Inc. Index membership data provided by Morningstar Inc.
MARKET UPDATE
[BRIEFING.COM] S&P futures vs fair value: -5.50. Nasdaq futures vs fair value: -11.80. U.S. equity futures continue holding modest losses with the S&P 500 futures down six points below fair value.

The Dollar Index began the night in the red after gaining 0.6% last week, but a steady rally off the lows has placed the index back near its flat line for the session. The dollar is currently little changed versus the yen (109.05), while the euro (1.2844) and the pound (1.6330) ... More
More Market News