America's uneven jobs recovery
Nationally, the numbers are improving, but unemployment remains a stubborn problem in some cities and regions.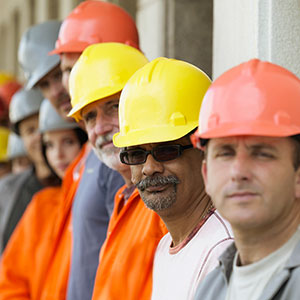 When it comes to employment rates, America's major metropolitan areas have received mixed news. Data released last week by the Department of Labor found that nonfarm, nonseasonal jobless rates were lower in nearly two-thirds of 372 U.S. cities in January -- but higher in 124 areas and unchanged in 21 other cities.
A dozen areas had jobless rates of at least 15%, and 80 metropolitan areas had unemployment rates of at least 10%, although that's an improvement on the figures released a year ago.
Yuma, Ariz., battered by a poor housing market, and El Centro, Calif., had the highest unemployment rates in January, at 26.5% and 25.8%, respectively. The majority of cities with the worst jobless rates were located in California, while three others were in New Jersey. The cities listed in the Garden State were in areas that were ravaged by Superstorm Sandy but could see employment rebound as the cleanup continues and local industries recover.
But the numbers in California, says 24/7 Wall St., "show how intractable the jobless problem can be and how, in some areas, it has gone without solution."
As the website points out, most of the California cites with high unemployment are in the state's center and have been hit by a triple whammy of a collapsed real estate, softer agricultural prices and the long-term effects of the state's ongoing financial crisis.

In terms of overall lowest unemployment rates, the honors for January went to Midland, Texas (3.4%), followed by Bismark, N.D., and Odessa, Texas -- both at 4.1%. The cities with the largest, year-over-year decreases were Las Vegas (-2.3%) and Ocala, Fla. (-2%). The Bureau of Labor Statistics says 59 other metropolitan areas had jobless rates drop by at least one percentage point in January.
Of the 49 U.S. cities with a population of 1 million or more, per the 2000 Census, two had jobless rates over 11%: Riverside-San Bernardino-Ontario, Calif. (11.5%) and Detroit-Warren-Livon​ia, Mich. (11.3%). At the other end of the big-city spectrum, Oklahoma City's jobless rate was lowest in January at 5.2%, followed by the Austin, Texas, region and metropolitan Washington, D.C., both at 5.8%.
At least now there's optimism that the recovering housing market could mean more construction jobs, which will in turn revive employment rates nationwide. Government figures quoted by the Pew Charitable Trusts noted about half of all job losses at the start of the recession were in the construction and manufacturing sectors, with construction suffering the worst drop since World War II.
But industry officials worry the continued budget quarrels in Congress could undermine the sector's recovery and hurt overall construction job creation.
DATA PROVIDERS
Copyright © 2014 Microsoft. All rights reserved.
Fundamental company data and historical chart data provided by Morningstar Inc. Real-time index quotes and delayed quotes supplied by Morningstar Inc. Quotes delayed by up to 15 minutes, except where indicated otherwise. Fund summary, fund performance and dividend data provided by Morningstar Inc. Analyst recommendations provided by Zacks Investment Research. StockScouter data provided by Verus Analytics. IPO data provided by Hoover's Inc. Index membership data provided by Morningstar Inc.
MARKET UPDATE
[BRIEFING.COM] The stock market finished the Tuesday session on the defensive after spending the entire day in a steady retreat. The S&P 500 (-0.6%) posted its third consecutive decline, while the small-cap Russell 2000 (-0.9%) slipped behind the broader market during afternoon action.

Equity indices were pressured from the start following some overnight developments that weighed on sentiment. The market tried to overcome the early weakness, but could not stage a sustained rebound, ... More
More Market News