Botched trade may spur pay cut for JPMorgan CEO
Jamie Dimon is one of the best-paid bankers on Wall Street. But an internal probe has faulted him in the 'London Whale' fiasco.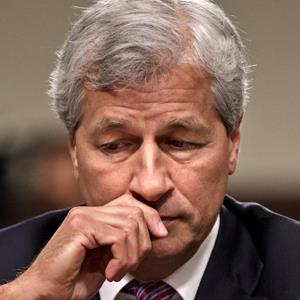 JPMorgan
(
JPM
) CEO Jamie Dimon, one of the most respected bankers on Wall Street, won't escape the "London Whale" scandal unscathed.
An internal investigation found that the 56-year-old and other senior managers should have done a better job overseeing the London division that botched $6.2 billion worth of trades, according to media reports. Not surprisingly,
The Wall Street Journal
is reporting that JPMorgan's board may dock Dimon's 2012 bonus as a result. He has been Wall Street's highest-paid CEO for years. The results of the internal probe will be presented to JPMorgan's board Monday.
Trader Bruno Iksill earned the nickname "London Whale" because of the huge bets he was taking. JPMorgan recently filed suit against Javier Martin-Artajo, Iskill's supervisor, in London for failing to properly supervise him, The
New York Times
says. Iksill no longer is with JP Morgan and Martin-Artajo has also left the bank.
Shares of JPMorgan, which have jumped more than 28% in the past year, were down slightly Monday in afternoon trading.
Ever since news of the unexpected trading losses were reported last year, the blunt-spoken Dimon has been unrelenting in his criticism of his subordinates, saying, as
Bloomberg News
noted, that they "acted like children." Ina Drew, JPMorgan's chief investment officer, was considered by many to be the most powerful woman on Wall Street, was forced out in the wake of the scandal. Chief Financial Officer Douglas Brauntstein also resigned.
"That report didn't single out any executives, instead blaming the fiasco on a combination of complacency, poor judgment and faulty risk controls," The
Wall Street Journal s
ays. "It singled out risk management within the Chief Investment Office for being 'ineffective.'"
JPMorgan's board needs to give Dimon at least a slap on the wrist. The Wall Street firm's insurance carriers probably demanded that the company conduct a thorough review to ensure that its risk management procedures were adequate. As CEO, of course the buck stops with Dimon.
Dimon probably won't lose much sleep over a reduction in compensation. His 2011 compensation alone reportedly was $23.1 million, including a $4.5 million cash bonus and $17 million in stock and option awards.

--Jonathan Berr does not own shares of the listed stocks. Follow him on Twitter @jdberr.

More on Money Now
I think EVERYONE AROUND THE WORLD wonders why Jamie Dimon has escaped the axe as long as he has. Who denies his active high level involvement in our demise? What good is having a bank so big that it can escape and outrun any ethics and character challenge? Fire Dimon and divest it into oblivion. WE are supposed to succeed, not Too Big To Fail banks and crank bankers like Dimon. Buy a hand basket, Jamie.
"(Reuters) - In 2004, Harvey Schwartz, who was then head of the financing business at Goldman Sachs Group Inc's investment bank, came up with a new way for the bank to make money from a seemingly mundane activity: helping companies buy back their shares.
He created a product that could save companies money by getting them improved pricing on buybacks while generating fees and trading profits for the bank. To build what became a multibillion-dollar market, Schwartz had to convince dozens of skeptical Goldman sales people, derivatives traders, corporate finance specialists and lawyers that they could make buybacks more enticing, said Martin Chavez, a Goldman quantitative analyst who worked with Schwartz.
"He said, 'I know the details are going to be immensely complicated, and it's going to seem impossible. But there is a solution here. We're all going to work until we figure it out,'" Chavez recalled Schwartz as saying. "And when Harvey says that, people listen."
At the end of this month, Schwartz will need many more to listen when he takes over as Goldman's chief financial officer from David Viniar, the firm's long-time finance chief who is seen by insiders, analysts and investors as a tough act to follow. Viniar, 57, will remain a Goldman director.
How Schwartz, 48, who has so far worked in relative anonymity as co-head of the firm's securities and trading unit, fills those shoes could have far-reaching impact on Goldman's outlook and even its culture."
Feel free to read the rest of this article (partially pasted) here. It's about a silver spoon type who has zero life and no legitimacy in the real world. Middle aged, didn't marry just lives-with, in a condo and has a black belt. Sounds like a typical juvenile with the right connections. He's the CFO at GS, or a pariah in a pariah. We really don't need these financial monsters thriving, we need America to. The best thing we can do is abolish the Gramm Leach Bliley Act and divest Big Banks into self-funded portfolio handlers toxic only in the state they HQ in. Schwartz sounds like a Bankfein butt-sniffer... like we needed anymore of them.

Boo hoo!  He should go to jail with the rest of them! Unbelievable.  Why should the tellers and people loose their jobs so he and the rest of them get their BONUSES??? He and the others should be held responsible.  Does anyone remember that word in business these days?  I've had to taken dozens of anti laundering classes and tests, and I've never touched money.  It was his job to oversee that things like this DIDN'T happen! I just don't understand why these people still have jobs, I really don't and never will. Mindboggling!

CEO's run great companies into the ground not workers ... Fire the idiot.. All the bank CEOs on wall street are idiots looking out for their golden pensions ... It was all them pesky NON UNION bank tellers that ran the wall street banks into the ground during the Meltdown... <<<< LMFAO....
Are you sure you want to delete this comment?
DATA PROVIDERS
Copyright © 2014 Microsoft. All rights reserved.
Fundamental company data and historical chart data provided by Morningstar Inc. Real-time index quotes and delayed quotes supplied by Morningstar Inc. Quotes delayed by up to 15 minutes, except where indicated otherwise. Fund summary, fund performance and dividend data provided by Morningstar Inc. Analyst recommendations provided by Zacks Investment Research. StockScouter data provided by Verus Analytics. IPO data provided by Hoover's Inc. Index membership data provided by Morningstar Inc.
MARKET UPDATE
[BRIEFING.COM] The stock market began the new trading week on the defensive note with small-cap stocks pacing the retreat. The Russell 2000 (-1.4%) and Nasdaq Composite (-1.1%) displayed relative weakness, while the S&P 500 lost 0.8% with all ten sectors ending in the red.

Global equities began showing some cracks overnight after China's Finance Minister Lou Jiwei poured cold water on hopes for new stimulus measures. Specifically, Mr. Lou said the government has no plans to change ... More
More Market News