Do noisier hybrid cars make sense?
One federal traffic agency says silence could be deadly, but those crying for the $25 million-a-year change aren't so loud.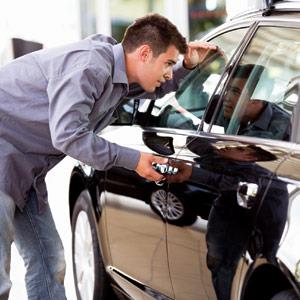 Enjoy the silence for now, electric and hybrid car drivers, because the government is about to demand that your vehicle make some noise.

The National Highway Traffic Safety Administration wants your Nissan (NSANY) Leaf, Chevrolet (GM) Volt and Tesla (TSLA) Model S to make some detectable noise at speeds under 18 miles per hour so bicyclists, pedestrians and the visually impaired can hear it.

The agency argued in an e-mail sent Monday that the measure would save 35 lives over each model year of hybrid vehicles and prevent 2,800 injuries.
Adding external speakers to those cars would cost about $25 million a year, or about $35 per vehicle, according to the agency. Environmental groups, however, argue that there's little conclusive evidence that the relative low-speed silence of electric and hybrid vehicles contributes to accidents or somehow makes them more dangerous than existing, noisier vehicles with internal combustion engines.
As seems to be more commonly the case these days, American drivers can thank Congress for this latest debate and potential cost increase. The Pedestrian Safety Enhancement Act of 2010 requires the Transportation Department, including the traffic safety agency, to write a rule addressing the noise levels of electric and hybrid cars and their potential dangers to walkers and cyclists by Jan. 4, 2014.

Those drivers should know, however, that much of the auto industry is not only on board with this plan, but thinks it's a good idea. The National Federation of the Blind is a fan of the rule and insists that the increasing number of cars that don't make noise at low speeds put blind people at risk. Toyota (TM), meanwhile, has already installed equipment on hybrid models sold in Japan and the U.S. that produces a sound when the engine runs.
"To add about a $30 or $35 item to a car for this kind of injury and death prevention, it's hard to argue against," Jesse Toprak, an analyst for industry data provider TrueCar.com in Santa Monica, Calif., told Bloomberg in an interview. "I'm sure all of us have experienced at some time the fear of getting struck by a Prius."

As an episode of the NBC sitcom "The Office" illustrated, it wouldn't be so difficult for a hybrid driver to sneak up on a pedestrian before that person had a chance to react. Cars that lack or intermittently use internal-combustion engines don't make noise while they accelerate or idle like their gasoline and diesel counterparts. A 2011 study found that electric and hybrid cars that go silent at low speeds are twice as likely as vehicles with internal-combustion engines to be involved in pedestrian accidents when backing up, slowing or stopping, starting in traffic or entering or leaving a parking space or driveway.
Yet, according to the National Highway Traffic Safety Administration's own numbers, both pedestrian fatalities and overall traffic fatalities in the U.S. have actually decreased since 2000 as the number of hybrid and electric vehicles on the road increased. Also, the agency's proposed quiet car rule assumes hybrid vehicles are more than 4% of the automobile market. Alan Baum, principal of industry researcher Baum & Associates in West Bloomfield, Mich., told Bloomberg that hybrids made up only 3% of light vehicles sold in the U.S., up from 2.1% in 2011. Plug-in electric vehicles, meanwhile, were only 0.37% percent of sales last year, up from 0.14% the previous year.
It's a small niche, but what's a government agency with "traffic" and "safety" in its name supposed to do? Just shrug off potential danger and rubber stamp any large, rolling, silent object that comes its way? Even if a taxpayer's answer to that question is yes, they're still getting off lightly. The traffic safety agency missed a deadline last week for a rule that would have required backup cameras in all new cars. The cost attached to that project would have been $2.7 billion a year.
Besides, there's a 60-day period for public comment, so worried pedestrians and irate drivers can offer the agency a little noise of their own before the rule's final version takes effect.
More on Money Now

I'm into the idea for sure. I'm a 15K mile per year cyclist in and about the Chicago suburbs and have been so for many years. I work hard at being very traffic conscious, and a responsible rider at that: I do stop at lights, stop signs, school bus pickup's etc. Over the years, I can tell you your ears are the biggest baddest weapon you have for safety on a bike. in slow zones, which also happen to be far less traffic filled, you never hear an electric coming, you just don't think anything is out there with you. Unfortunately, I can attest to this as I have now had my first  near miss with a silent Prius. I thanked the driver for a good breaking reaction or I was Toyota food.......Yah, I know, many of you think that's what cyclist are for anyway, bumper food!

Are you sure you want to delete this comment?
DATA PROVIDERS
Copyright © 2014 Microsoft. All rights reserved.
Fundamental company data and historical chart data provided by Morningstar Inc. Real-time index quotes and delayed quotes supplied by Morningstar Inc. Quotes delayed by up to 15 minutes, except where indicated otherwise. Fund summary, fund performance and dividend data provided by Morningstar Inc. Analyst recommendations provided by Zacks Investment Research. StockScouter data provided by Verus Analytics. IPO data provided by Hoover's Inc. Index membership data provided by Morningstar Inc.
MARKET UPDATE
[BRIEFING.COM] Not much change in the major averages as they continue hovering near their lowest levels of the day. The S&P 500 (-0.8%) notched its session low around 12:00 ET and has maintained a seven-point range since then. Meanwhile, the price-weighted Dow Jones Industrial Average (-0.5%) continues trading a little ahead of the benchmark index.

Six Dow components remain in the green, but the leading performer, DuPont (DD 71.75, +0.50), is the only stock showing an increase ... More
More Market News