New channels coming as providers cut costs
Cable and satellite companies drop low-rated outlets and pay dearly for sports as newcomers find ways around fees.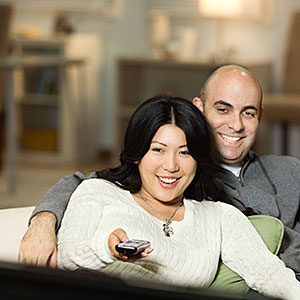 There's a whole mess of new cable and satellite channels heading viewers' way in 2013, which is pretty much the last thing cable and satellite providers want.
According to AdAge, the golf channel Back9Network, the WWE's new pro wrestling channel, Fox Sports' rebranded motorsports channel Fox Sports 1, an indie documentary channel from Participant Media and a 24-hour news joint venture between ABC News and Univision are among the new stations competing for space in the channel guide in 2013.

However, with content costs rising, stations at the low end of the spectrum are feeling the pinch and may have to reconsider their strategy if they want to compete.
Time Warner Cable (TWC) splurged for the NFL Network and BBC World News last year, but just dropped the arts channel Ovation after it asked for a bump in its subscription fee. Ovation charges cable providers 7 cents for a service that included movies and shows such as Antiques Road Show. Time Warner balked, saying the network is viewed by less than 1% of its customers on any given day. If anyone still wonders why A&E and Bravo ditched plays, "Biography" and British programming for "Real Housewives" and "Storage Wars," Ovation is your answer.
Of course, it also helps that big conglomerates like Comcast (CMCSA), Hearst Corporation and Disney (DIS) have Bravo and A&E's back. Disney's ESPN fetches $5 from every cable and satellite subscriber in the country and is the single most expensive non-premium network on pay television, according to SNL Kagan. ESPN's 3D version comes in a distant second at $2.71 per subscriber, though it helps when Mickey can shift huge sporting events like NFL's Monday Night Football and college football's Rose Bowl from its free ABC network to boost ratings.
Ovation is owned by a group of investors and, after being dropped from Time Warner, is only in about 44 million homes and has a subscription fee of roughly a third of ESPN's least expensive network, ESPNU. Even as a relatively small player in the cable world, Ovation finds itself in some pretty illustrious company when it comes to networks battling for their place on the screen.
Back in October, Dish Network (DISH) settled a dispute with AMC Networks (AMCX) and its former parent company Cablevision (CVC) that was supposedly over a long-dead high-definition satellite service. The argument quickly turned to ratings when Dish chairman Charlie Ergen said his subscribers really didn't watch, AMC, IFC, We Network or Sundance Channel shows anyway.
"I've had satellite television for as long as satellite television has been around and there's never been one minute that I know of anybody in my family, or anybody who's came to my house, has ever watched one second of any of those channels," Mr. Ergen said during a conference call in August.
Somebody apparently informed him that those are the channels that carry "Mad Men," "Walking Dead," "Breaking Bad" and "Portlandia," because Dish ponied up $700 million to both Cablevision and AMC Networks and entered a long-term deal to carry AMC's channels. DirecTV, meanwhile, yanked MTV, Comedy Central, Nickelodeon and other networks out of its lineup in July during a fee dispute with Viacom (VIA). That dispute was resolved before August, with the Viacom networks returning to air and DirecTV paying 20% more for the privilege of airing them.
Fee disputes between content providers and multi-channel distributors have become more common in recent years, especially as local broadcast and sports networks ask for bigger cuts of the profits. SNL Kagan estimates that the retransmission fees that local network affiliates charge cable and satellite providers will increase from $2.36 billion this year to $6 billion in 2018. That's still less than a dollar per network affiliate and would still make the combined monthly cost of transmitting local ABC, NBC, CBS (CBS), Fox and CW channels less than that of ESPN.
Bernstein Research delved into the multichannel numbers last year and found that sports make up 20% of the programming watched in the U.S., but 50% of the average cable or satellite bill. How does a small niche network compete when sports networks hog so much fee money? By not charging fees at all.
AdAge notes that court and legal news channel Justice Central just cracked the lineup on AT&T's (T) U-verse service last month by charging no subscription fee and relying solely on advertising. Instead of entering a negotiation that providers like Time Warner just aren't interested in, Justice Central's parent company entertainment studios convinced U-verse to give it a 10-year deal just by dropping the fee. Chief executive Byron Allen is hoping that strategy will help him increase the channel's reach from 4 million homes to 80 million.
The last network that resembled Justice Central, the former Court TV, was turned into TruTV by parent company Time Warner and loaded down with reality shows like "Hardcore Pawn," "Storage Hunters" and "Operation Repo" to boost ratings. Each March, it pushes aside regular programming to air early rounds of the NCAA Men's Basketball tournament as part of an agreement between CBS and Time Warner's Turner Sports.
It's become clear that cable and satellite providers would love nothing more than a fixed slate of networks that provide nothing but sports coverage, shouting-head news and cheap reality shows featuring spoiled homebodies and repossession agencies. New networks can still provide that, but they may have to forgo their prized subscription fees to do it.
More on Money Now

DATA PROVIDERS
Copyright © 2014 Microsoft. All rights reserved.
Fundamental company data and historical chart data provided by Morningstar Inc. Real-time index quotes and delayed quotes supplied by Morningstar Inc. Quotes delayed by up to 15 minutes, except where indicated otherwise. Fund summary, fund performance and dividend data provided by Morningstar Inc. Analyst recommendations provided by Zacks Investment Research. StockScouter data provided by Verus Analytics. IPO data provided by Hoover's Inc. Index membership data provided by Morningstar Inc.
MARKET UPDATE
[BRIEFING.COM] The stock market began the new trading week on the defensive note with small-cap stocks pacing the retreat. The Russell 2000 (-1.4%) and Nasdaq Composite (-1.1%) displayed relative weakness, while the S&P 500 lost 0.8% with all ten sectors ending in the red.

Global equities began showing some cracks overnight after China's Finance Minister Lou Jiwei poured cold water on hopes for new stimulus measures. Specifically, Mr. Lou said the government has no plans to change ... More
More Market News