A $1.5 billion ticket to the moon
After NASA ended its space shuttle program last year, a new crop of space firms are offering adventures to infinity and beyond -- but at astronomical prices.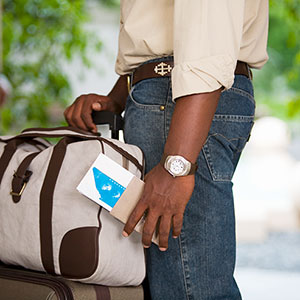 The next several years could herald a new frontier for space flight and exploration. With the end of NASA's 30-year space shuttle program in 2011, several private companies are preparing to fill the void, bringing new ideas about taking people and cargo into space.
One Colorado company, Golden Spike, recently announced plans to take passengers to the moon by the end of the decade. These tickets are definitely not economy-class, however: The price to take two people to the moon, round-trip, is $1.5 billion.

"We realize this is the stuff of science fiction. We intend to make it science fact," said Golden Spike board member Alan Stern at a National Press Club event in Washington, D.C. "We believe in the price points that we're talking about."
And Stern should know what he's talking about. He's one of several former NASA administrators and officials who have signed up with Golden Spike. "The trick is 40 years old," he told the Washington Post. "We know how to do this."
Golden's Spike's mission, according to its website, is to establish regular commercial passenger transportation to the moon "using existing technology, at price points attractive to a diverse portfolio of customers -- science agencies, corporations, and tourists."
And like any good travel organization, the company is offering a variety of options for its potential moon travelers, including "plans to provide complete lunar exploration expeditions for your crew members, including all flight systems, crew training, regulator approvals, mission operations and even surface experiment packages if desired."
But Golden Spike is finding itself in an increasingly crowded field. Jeff Bezos, founder and CEO of Amazon (AMZN), has his own private space company, Blue Origin. The Los Angeles Times reports Bezos is competing with Boeing (BA) and two other companies in the development of vehicles that can take U.S. astronauts to the International Space Station. And NASA has committed more than $25 million to Blue Origin's efforts.

Meanwhile, Space Exploration, also known as SpaceX, has already made inroads into space. In 2010 it became the first private company to successfully launch a spacecraft into orbit. And just this year, the SpaceX Dragon cargo ship became the first private spacecraft to resupply the International Space Station.

In addition, SpaceX just announced it was awarded $262 million in contracts with the U.S. military to launch a NASA-operated solar telescope and a U.S. military satellite into orbit.

SpaceX currently has a 12-flight cargo delivery contract with NASA worth about $1.6 billion. And according to Reuters, the company also "has a backlog of about 20 commercial and non-U.S. government satellites and payloads to fly on its Falcon family of rockets over the next five years."
The compay's CEO and founder, Elon Musk, helped to create PayPal (EBAY) and is the founder and CEO of Tesla Motors (TSLA). He also has plans, reported on Space.com, to establish a colony on Mars -- starting with exploratory trips to the Red Planet for about $500,000 a shot.
And then there's Richard Branson. The founder of Virgin (VMED) business empire also has his own space company, Virgin Galactic. Earlier this year, Branson announced that he and his two adult children will be passengers in his company's first tourism flight into orbit next year. The company already has more than 500 adventurers, including a variety of celebrities, signed up for its space flights -- at $200,000 per person.
Virgin Galactic expects to launch those first passenger flights into space starting in 2014, at the Spaceport America outside of Truth or Consequences, New Mexico. Its web site describes Spaceport America as "the world's first purpose-built, commercial spaceport designed with the needs of the commercial, space business in mind."
New Mexico is reportedly devoting $209 million in taxpayer funds to creating the 18,000-acre facility -- complete with a visitor center designed by Disney (DIS) "imagineers."
"By December 2013, we have to be totally self-sustaining," Christine Anderson, executive director of the New Mexico Spaceport Authority, told Space.com in 2011. "I'm moving from a state-funded enterprise to a self-sustained enterprise. And that's an interesting transition."
The nearest town of real size, Las Cruses, is 50 miles from Spaceport America, but officials there are thinking big. "We're looking at an expected 200,000 to 500,000 (people) a year passing through Las Cruces to get to the Spaceport just to visit the Visitor Center," Philip San Filippo, executive director of Las Cruces Convention & Visitors Bureau, told Tours.com. "There is not a lot to do out there in the desert so we are preparing to show them what Las Cruces can offer."
And a lot of these new space companies are hoping the world will come to them, when it comes to trips beyond the world. 


"We're not just about America going back to the Moon; we're about American industry and American entrepreneurial spirit leading the rest of the world to an exciting era of human lunar exploration," said Dr. Stern in a press statement. "It's the 21st century, we're here to help countries, companies, and individuals extend their reach in space, and we think we'll see an enthusiastic customer manifest developing."
Correction: This post was edited on 1/21/2013 to correct the amount NASA has spent on Blue Origin.

More from Money Now
Are you sure you want to delete this comment?
DATA PROVIDERS
Copyright © 2014 Microsoft. All rights reserved.
Fundamental company data and historical chart data provided by Morningstar Inc. Real-time index quotes and delayed quotes supplied by Morningstar Inc. Quotes delayed by up to 15 minutes, except where indicated otherwise. Fund summary, fund performance and dividend data provided by Morningstar Inc. Analyst recommendations provided by Zacks Investment Research. StockScouter data provided by Verus Analytics. IPO data provided by Hoover's Inc. Index membership data provided by Morningstar Inc.
MARKET UPDATE
[BRIEFING.COM] The stock market finished an upbeat week on a mixed note. The S&P 500 shed less than a point, ending the week higher by 1.3%, while the Dow Jones Industrial Average (+0.1%) cemented a 1.7% advance for the week. High-beta names underperformed, which weighed on the Nasdaq Composite (-0.3%) and the Russell 2000 (-1.3%).

Equity indices displayed strength in the early going with the S&P 500 tagging the 2,019 level during the opening 30 minutes of the action. However, ... More
More Market News