Is Wall Street setting up another housing crash?
Big investors and speculators are snapping up properties with cash and pushing prices up. The fear is that's creating a new bubble.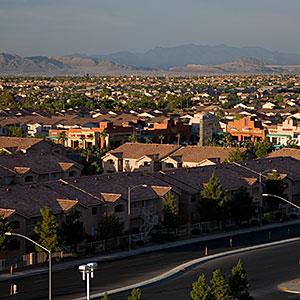 "If I had a way of buying a couple-hundred-thous​and single-family homes, I would load up on them," famed investor Warren Buffett said on CNBC last year. "It's a very attractive asset class now. I could buy them at distressed prices and find renters."

Well, the market is apparently acting on the Oracle of Omaha's words.

The Washington Post reports that Wall Street investors and others are currently putting "unprecedented amounts of money" into real estate. And while that cascade of funds is apparently helping to revive the real estate sector, especially in states like Florida that were hardest hit from the recession, some analysts are concerned about deja vu -- the possibility of another unsustainable, speculation-fueled housing bubble.
"I don't know whether things are as good as they seem to be," Scott Kranz, co-principal with Title Capital Management in Florida, told the newspaper.
"The end-user would need to see a great increase in jobs, availability of mortgage money and a loosening of the reins that have been holding them back," he noted. "But all the economic indicators ... are not at that point."
And while the Street, the well-to-do and some financial institutions are likely to benefit from this uptick, it will also push hopes of home ownership that much further away from financially struggling U.S. families.
"The investors are making it hard for a regular homeowner to buy a property," Robert Russotto, a broker with Better Homes and Gardens Real Estate in Fort Lauderdale, Fla., said in an interview with the Post. "They are getting outbid by people with cash."
Global investment management firm PIMCO is forecasting an 8% to 12% appreciation in housing over the next two years, as the economic recovery gathers momentum.
Meanwhile, low interest rates and depressed housing prices are creating a perfect storm of enthusiasm from investors. "Residential property is an on-fire asset class," said Kranz to the Washington Post. He also noted that his firm has put more than $100 million into residential real estate for investors in the past 12 months.
But all this movement is frightening some analysts. "At some point the music stops," Dean Baker, co-director of the Center for Economic and Policy Research told the Post. "The investors, if they get hurt, that is their problem. But invariably a lot of other people will get caught up in that."
DATA PROVIDERS
Copyright © 2014 Microsoft. All rights reserved.
Fundamental company data and historical chart data provided by Morningstar Inc. Real-time index quotes and delayed quotes supplied by Morningstar Inc. Quotes delayed by up to 15 minutes, except where indicated otherwise. Fund summary, fund performance and dividend data provided by Morningstar Inc. Analyst recommendations provided by Zacks Investment Research. StockScouter data provided by Verus Analytics. IPO data provided by Hoover's Inc. Index membership data provided by Morningstar Inc.
MARKET UPDATE
[BRIEFING.COM] Equity indices remain near their best levels of the session with the S&P 500 trading higher by 0.4%.

Although the third week of September is nearing its end, there is still one big unknown that needs to be resolved ahead of the weekend. Specifically, the results of the Scottish independence referendum are expected to trickle in during the course of the night.

Many European banks have announced that their foreign exchange desks will be fully staffed in ... More
More Market News
TOP STOCKS
Meet Alibaba's new billionaires
Despite its size, the IPO will create just two new members of the 10-figure club from its executive ranks. A few others could net hundreds of millions.