FedEx's busiest day ever: 200 packages a second
The company expects to move 19 million shipments Monday in another hopeful sign for the economy.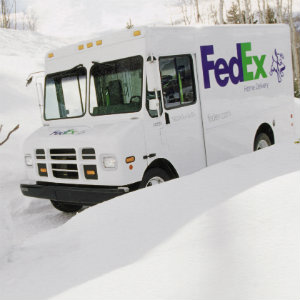 FedEx
's (
FDX
) elaborate shipping and delivery system will be kicked into overdrive Monday.
The company expects that Dec. 10 will be the busiest day in its history, with 19 million packages moving through its system. The company is so swamped, in fact, that it hired 20,000 seasonal workers to help its normal workforce of 300,000.
The company thinks it will be processing more than 200 packages a second Monday.
As you can imagine, FedEx is thrilled with the record-breaker. It's branded Dec. 10 its "Busiest Day," and put out a
press release
announcing the news. This holiday season looks to break records as well; FedEx expects to ship 280 million packages between Thanksgiving and Christmas, a 13% increase from last year.
What's the reason for the increase? A surge in online shopping, mainly. FedEx cites one survey forecasting that online sales will rise by 17% this holiday. This week is expected to be the busiest online shopping week of the year.
"We expect it to be a pretty good holiday season for the package companies," analyst Helene Becker of Dahlman Rose & Co.
told
MarketWatch. "Every year it seems like the amount of ordering that goes online is increasing. We think that will be the case this year."
The Star-Ledger went to the Newark Airport to watch FedEx in action. Here's how the company handles packages there,
according to
the newspaper:
When a FedEx plane lands, as many as 20 workers unload the steel containers being transported.
The workers open the containers, scan the packages inside and place them on conveyor belts. The scans are registered immediately, and a series of orange paddles attached to the belts move the packages to any of nine secondary belts.
The packages are scanned again and loaded onto trucks headed for one of 11 distribution centers in New Jersey.
That same plane could be flying within two hours with new packages bound for other parts of the country.
The good mood at FedEx says a bit about the country's recovering economy. Shipments by the company and by rival UPS (UPS) are viewed as an economic indicator of sorts.
But not all is rosy in FedEx land. Customers are moving away from high-priced premium delivery services to cheaper, slower options, according to the Associated Press. That's pushing FedEx into massive cost-cutting mode. It wants to chop its yearly expenses by $1.7 billion, and will be offering employee buyouts next year to help achieve that goal.

More from Money Now

FedEX.......Does a damn good job....They and UPS, along with USPS do as best as they can.....
In the bigger cities for Business they are excellent....
In the rural areas, they have always been good about getting stuff here...It aint easy folks...
So check all your doors, and wish them a Merry Christmas, Happy Hanukkah,Kwansa or have a nice Holiday....Offer them a cup of coffee.
I wouldn't want that job....NEVER have.

Fedex drivers have to double check names and addresses when they deliver packages. One of our packages ended up on another street.  Package had our name and address on it.  We were lucky to get it at all as the driver left it at a door that is seldom used. One of our granddaughters would have been disappointed on Christmas Day.

This is good news overall, as long as people pay attention.  The people who work at retail centers like Best Buy and Target should realize like it or not jobs will be moving from working on a showroom floor to logistical processing of packages sourced by automated point of sale systems like Amazon.  Amazon is investing billions into reducing the time to delivery with regional inventory centers, the goal being 1 day delivery or return of any 'Prime' item on Amazon.  People will always shop at stores for social aspects or the nostalgia of it, but when that disappears a generation from now most things will be purchased from your Ipad's and Kindle fires.  Its a good era to be a shipping company... force retirement on USPS and get some execs out of corporate...apply what they have learned and turn the fat USPS into a money maker.  (little known fact that USPS system is too expensive,old and slow for Netflix... they sort/process themselves and use the post office for pickup and delivery only).  How can USPS still lose $25,000,000 tax dollars a DAY in the online era where the competitors are killing it, can it really be that hard of a nut to crack?  The unions forced Hostess into bankruptcy, the american postal workers union would do the same for the USPS if I didn't just LOVE to piss tax money away...

Are you sure you want to delete this comment?
DATA PROVIDERS
Copyright © 2014 Microsoft. All rights reserved.
Fundamental company data and historical chart data provided by Morningstar Inc. Real-time index quotes and delayed quotes supplied by Morningstar Inc. Quotes delayed by up to 15 minutes, except where indicated otherwise. Fund summary, fund performance and dividend data provided by Morningstar Inc. Analyst recommendations provided by Zacks Investment Research. StockScouter data provided by Verus Analytics. IPO data provided by Hoover's Inc. Index membership data provided by Morningstar Inc.
MARKET UPDATE
[BRIEFING.COM] The stock market began the new trading week on the defensive note with small-cap stocks pacing the retreat. The Russell 2000 (-1.4%) and Nasdaq Composite (-1.1%) displayed relative weakness, while the S&P 500 lost 0.8% with all ten sectors ending in the red.

Global equities began showing some cracks overnight after China's Finance Minister Lou Jiwei poured cold water on hopes for new stimulus measures. Specifically, Mr. Lou said the government has no plans to change ... More
More Market News