Rocketing to Mars in 30 days -- rather than 4 years?
Researchers say their fusion-powered engine that could safely speed a human expedition to the Red Planet. Skeptics say no way.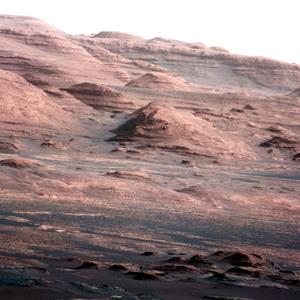 Can space travel ever become cost-efficient? It certainly has never been cheap. The recently ended U.S. space shuttle program, even with its reusable spacecraft, still cost about $1.5 billion per flight, according to an analysis quoted by Space.com. And NASA estimates that the cost of just launching a spacecraft to Mars, using currently available chemical rocket fuel, would run more than $12 billion.
But University of Washington researchers, along with scientists at a private Washington state company, say they've come up with a fusion-powered rocket that, according to a press release, would "clear many of the hurdles that block deep space travel, including long times in transit, exorbitant costs and health risks."
In theory, a fusion-driven rocket uses magnetism to compress special metal bands around a deuterium-tritium fuel pellet -- which in turn starts the powerful fusion process.
And the researchers say compared with the more than four years NASA estimates it would take a human expedition to get from Earth to Mars using today's technology, a fusion-powered rocket could make that same trip in 30 to 90 days. The team's work was funded by NASA's Innovative Advanced Concepts Program and has been selected to get a second round of funding.

But a lot of experts remain very skeptical about the possibility of a fusion-driven rocket trip to Mars.
"I have a hard time buying these claims while we struggle to make fusion viable in the Earth-based lab," said Peter Delamere, an associate professor of physics at the University of Alaska Fairbanks, in an email to MSN Money.
"That is, the lab-based fusion reactions require more input energy than energy output," he added. "Not until we find a way of getting more out than we put in will fusion be a viable energy resource."
However, the researchers in Washington state are betting that their plans for a fusion-powered rocket will create the powerful energy source needed to turn the science fiction of interplanetary travel into fact.
"We hope we can interest the world with the fact that fusion isn't always 40 years away," said lead researcher John Slough, "and doesn't always cost $2 billion."

We researched and developed fission powered engines in the '80's and '90's and we were ready to use those engines in a rocket until the program was inexplicably cancelled -- probably due to potential negative public opinion about using a fission powered rocket. A nuclear fission powered spacecraft was and remains very close to reality -- all we need is the will to build it. If not launched from the ground, such a rocket could be assembled in space. It could be used to  make the trip out and back in the 30-45 day range (each way) and could be REUSED. Such a power source could also be used for quick trips to/from the the Earth to Earth-Sun and Earth-Moon Lagrangian points as well as to the moon and NEO's.
Why are we not using this technology - Answer: The public's paranoia about nuclear powered spacecraft.
An explosion? Oh my gosh are you really that stupid to think that lighting a solid fuel rocket is anything but and explosion. Have you never watched the old video's of rocket trials and seen the rockets blow up?  or what about the shuttle that exploded, what caused that a wind gust? No it EXPLODED
Thats as dumb as people thinking that hydrogen is dangerous as a fuel but gas isn't.

I hope it works but i don't think so with today's technology. Today you need to put more energy in and get less energy out so it wouldn't work. I hope they can find a way to make it work. A fusion reaction is an explosion so they would need a way to control it also. i think it is far off into the future but i hope i'm wrong. it would be great to travel such distances in a relatively short amount of time.

I may be wrong, but if you time a launch to Mars during inferior conjunction with planet Earth it wouldn't take 4 years to get there.  During Mars/Earth inferior conjunction you could probably get there in 6 months.  Perhaps the NASA estimate is that it would be a  mission 4 years in duration. 
Also, I find a curious lack of earth physics and astro-physics details in this dream article.

Fusion power will be a reality in 50 years.  50 years later, Fusion power will be a reality in 50 years.  And so forth.  And NASA is going to give these guys a second round of funding for  a technology that may be 500 years in the future, if ever?  I think this is what's called The Fleecing of America.
Are you sure you want to delete this comment?
DATA PROVIDERS
Copyright © 2014 Microsoft. All rights reserved.
Fundamental company data and historical chart data provided by Morningstar Inc. Real-time index quotes and delayed quotes supplied by Morningstar Inc. Quotes delayed by up to 15 minutes, except where indicated otherwise. Fund summary, fund performance and dividend data provided by Morningstar Inc. Analyst recommendations provided by Zacks Investment Research. StockScouter data provided by Verus Analytics. IPO data provided by Hoover's Inc. Index membership data provided by Morningstar Inc.
MARKET UPDATE
[BRIEFING.COM] The stock market finished an upbeat week on a mixed note. The S&P 500 shed less than a point, ending the week higher by 1.3%, while the Dow Jones Industrial Average (+0.1%) cemented a 1.7% advance for the week. High-beta names underperformed, which weighed on the Nasdaq Composite (-0.3%) and the Russell 2000 (-1.3%).

Equity indices displayed strength in the early going with the S&P 500 tagging the 2,019 level during the opening 30 minutes of the action. However, ... More
More Market News