April 20: A 'budding' holiday in 2 states
Pot smokers are expected to flock to Colorado and Washington, where voters legalized the recreational use of cannabis in November.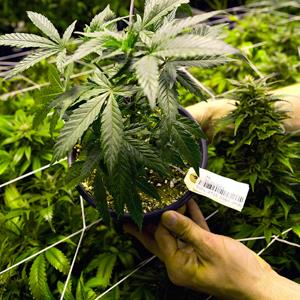 You kind of got the feeling back in November that April 20 wasn't going to be an ordinary day in Colorado or Washington.
Even folks who've never inhaled tend to understand the significance of 4/20 -- or 4:20, or even 420 -- to U.S. cannabis culture. After voters in both Colorado and Washington state approved legalizing the recreational use of marijuana and dispensed with all legal and medical pretense, 4/20 graduated from counterculture celebration to a full-on victory party.
Large-scale festivities are planned in both states on Saturday, even if those taking part in them are a little hazy on why they're happening on April 20 in the first place. For some, 420 has its origins amid the roving community that once followed the Grateful Dead around the country. It indicated the time and, once a year, the date to light up and partake.
To some of those deadheads, however, the tradition stretches back to something as simple as students at a high school in San Rafael, Calif., in 1971 meeting up at 4:20 p.m. to smoke by a statue on school grounds.
Our colleague Bruce Kennedy has noted several times since the successful votes in Colorado and Washington that the green rush is on. Whether it's investors looking for shares of marijuana-connected companies, entrepreneurs offering cannabis classes, companies making pot vending machines or shops handing out pot samples for free, word is out that a lot of cash can be made off softening attitudes toward weed.
That's moment-of-clarity clear in Denver, where the head of "My 420 Tours" has sold 160 tour packages to visiting pot smokers for the April 20 weekend. Prices start at $499 a pop, not including hotel, air or so much as a contact buzz worth of marijuana.
Though Denver is hosting the High Times magazine-sponsored Cannabis Cup, where the Lion formerly known as Snoop Dogg is being presented with a lifetime achievement award, marijuana won't be sold commercially there until January. Medical marijuana dispensaries won't be able to sell to out-of-state residents until that time, either. And while Colorado's Red Rocks Amphitheater will still host the fragrant cloud masquerading as a Cypress Hill/Slightly Stoopid show on Saturday, the University of Colorado is bogarting all fun of any kind by clamping down on the school's annual, non-endorsed 4/20 smokeout.

In Washington, meanwhile, 4/20 celebrations still require a bit of adjustment. High Times competitor DOPE Magazine is hosting a small-scale gathering at an artist work space and studio. About 1,500 people are expected for glassblowing demonstrations, music, dancing and a bar where revelers can vaporize their stash. The magazine will also be judging the "DOPE Cup" -- an award for the best bud. A smoking tent will be set up outside, along with what are sure to be overworked food trucks.
By Seattle standards, though, that's pretty tame. As locals know, April in the Northwest is still far too rainy to host any large outdoor event where things need to stay lit for any length of time. It's why city cannabis enthusiasts usually hold off until the summer's Hempfest festivities by the waterfront to indulge.

Think how much money is going to flow into Washington and Colorado's economy!  This is pretty similar to the recent history of gambling.  First there was AC and Vegas.  Then other states started to see the potential tax stream and the Gulf Coast casinos and a few riverboats were open for business.  Now, there's casinos everywhere, in just about every state.  If things go well in Washington and Colorado, you could see legalized pot spread across the country in a matter of a few decades.



420 takes on a special meaning for myself as I was born on this day and to see people enjoying and having fun on this day is a very nice example of determination and look where it has taken us. Well at least we don't have to remember those individuals who tried to change the world with pure brutality. Good Smoking.......I was born in Colorado so I guess I should take a documented road trip....any takers? LOL 

Seattle Hempfest is scheduled for the third weekend in August 2013.  Over a quarter million people are expected to gather along the shores of Puget Sound for a festival celebrating pot culture.  People will be smoking openly.  Anyone can become a Hempfest member and receive an invitation to the VIP party the evening of opening day, when supporters, speakers, artists and volunteers will celebrate in an otherwise empty Myrtle Edwards Park.  It's very cool.  Seattle Hempfest is the city's biggest annual event and the largest Marijuana event in the world!  
Are you sure you want to delete this comment?
DATA PROVIDERS
Copyright © 2014 Microsoft. All rights reserved.
Fundamental company data and historical chart data provided by Morningstar Inc. Real-time index quotes and delayed quotes supplied by Morningstar Inc. Quotes delayed by up to 15 minutes, except where indicated otherwise. Fund summary, fund performance and dividend data provided by Morningstar Inc. Analyst recommendations provided by Zacks Investment Research. StockScouter data provided by Verus Analytics. IPO data provided by Hoover's Inc. Index membership data provided by Morningstar Inc.
MARKET UPDATE
[BRIEFING.COM] The stock market finished an upbeat week on a mixed note. The S&P 500 shed less than a point, ending the week higher by 1.3%, while the Dow Jones Industrial Average (+0.1%) cemented a 1.7% advance for the week. High-beta names underperformed, which weighed on the Nasdaq Composite (-0.3%) and the Russell 2000 (-1.3%).

Equity indices displayed strength in the early going with the S&P 500 tagging the 2,019 level during the opening 30 minutes of the action. However, ... More
More Market News