Slumping home sales muddle housing market
Recent gains and reasons for hope have been dampened by lingering doubts.
How's the housing market doing? It depends on the day.
On Tuesday, the S&P/Case Shiller Index indicated that housing prices jumped 3.6% in the third quarter. That was their biggest quarterly increase since 2010, when new homebuyers received an $8,000 tax credit to help them get started.
Flash forward to Wednesday and the news gets a bit more dire. The Census Bureau and the Department of Housing and Urban Development reported that new-home sales were down 0.3% in October from the month before, thanks largely to Superstorm Sandy causing a 32% decline in home sales in the Northeast.
So where does the housing market actually stand?
The optimist's view is that it's improving and the numbers are there to back it up. Existing home sales rose 2.1% from September to October and are up 10.9% from last October, according to the National Association of Realtors. The prices of those existing homes have also risen 11% year over year, aided by low rates that Freddie Mac puts around 3.3% for a 30-year fixed-rate mortgage.
Meanwhile, foreclosed-property marketer RealtyTrac notes that foreclosure rates were down 7% in September and down 16% year-over-year. That's the lowest number of foreclosure filings since September 2007 and, in several cities, that number has returned to the levels that preceded the housing bust.
As for that grim new housing news, it's still open to interpretation. A month-to-month decline isn't great, but October new housing sales were still up 17% from last year. The new housing market has increased 20% year-to-date, while new housing starts increased 3.6% from September to October and 42% within the last year. Homebuyers are also paying 5.7% more for new homes than they were a year ago.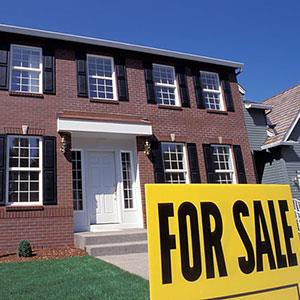 Combined with improved consumer confidence and optimism about employment, all of the above looks great for housing's big picture. Still, the doomsayers have plenty of housing stats to play with, too.
They'll remind everyone that the only reason mortgage rates are so low is because of the Federal Reserve's plan to buy back $40 billion in mortgages as part of its latest round of quantitative easing. They'll also remind potential homebuyers that their coveted mortgage interest tax deduction may not exist in 2013 if Congress decides it's one of the cuts needed to balance the budget and make the fiscal cliff a bit less steep.
Oh, and that rise in new housing prices? It's slowed for two straight months.
There are still a whole lot of reasons for hope in the current housing market, but that hope's as conditional as it's been since the housing crisis began. Just when everything looks sturdy, little traces of doubt sneak in like termites and threaten to bring down the whole works. In this still-tenuous market, tread cautiously.
More from Money Now
DATA PROVIDERS
Copyright © 2014 Microsoft. All rights reserved.
Fundamental company data and historical chart data provided by Morningstar Inc. Real-time index quotes and delayed quotes supplied by Morningstar Inc. Quotes delayed by up to 15 minutes, except where indicated otherwise. Fund summary, fund performance and dividend data provided by Morningstar Inc. Analyst recommendations provided by Zacks Investment Research. StockScouter data provided by Verus Analytics. IPO data provided by Hoover's Inc. Index membership data provided by Morningstar Inc.
MARKET UPDATE
[BRIEFING.COM] Recent action saw the key indices inch to fresh lows for the session. Including today's decline of 0.8%, the S&P 500 is lower by 0.5% so far in September. Despite the loss for the month, the benchmark index has fared a bit better than its higher-beta peers. On that note, the Nasdaq has given up 1.3% so far this month, while the Russell 2000 is down 3.7% for the month. Elsewhere, the price-weighted Dow (-0.5%) trades ahead of the broader market today and is up 0.6% for the ... More
More Market News