Jobs picture may be better than you think
Recent revisions to the government's jobs data suggest job creation in 2012 was quite a bit better than thought.
Last week's report on January jobs was OK. The government estimated the economy generated 157,000 jobs, but the unemployment rate rose slightly to 7.9%. Most pundits graded the report "tepid."
But deep in the report was a section that suggests the 2012 jobs picture overall was better than everyone thought, and that tepid for January doesn't show the whole picture.
There were at least 335,000 more jobs created during 2012 than thought even a month ago -- and there were more people working overall. And the numbers may get better.
The Labor Department revises its data constantly, as do all government agencies. That's because a lot of raw data comes to the government in fits and starts. That's why each month's jobs data is revised twice more after the first report.
Then, every February, the Labor Department does one more revision to reflect new data received over the 12 months between April of two years before and March of the prior year.  So, with the January jobs report, the data reflects revisions from April 2011 through March 2012.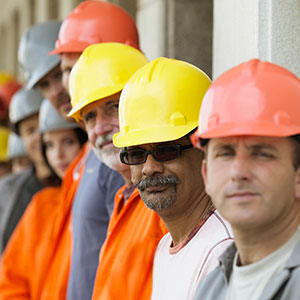 The New York Times' Floyd Norris noted
how the March 2012 data changed.
In April 2012, he wrote on Friday, the Labor Department reported the economy gained just 120,000 jobs in March 2012. The Street estimate was for a gain of 205,000 jobs.
The news came out on Good Friday, with the stock market closed. On the following Monday, the
Dow Jones industrials
(
$INDU
) fell 131 points. Some speculated the report might hurt President Barack Obama's reelection chances.
After the first two revisions, the payroll number had climbed to show a gain of 143,000 jobs for March. And with the latest benchmarking, the March jobs gain is now estimated at 205,000. Hence the headline on Norris' piece: "A bad jobs report turns out to have been wrong."
The bottom line on 2012 so far: The economy created at least 181,000 jobs a month, up from a prior estimate (in January no less) of about 153,000 jobs. It may get revised higher next year.
Moreover, there were more people on payrolls to start with. The new 12-month revision estimates that some 133.29 million people were on someone's payroll in March 2012. That was an upward revision of 422,000 from the estimate everyone had used starting in May 2012 after the requisite two revisions.
Over the year, the difference between the old estimates of payroll employment and the new estimates averaged 494,000 a month. It sounds big but really isn't -- just a 0.4% difference.
Does this mean someone is playing fast and loose with the numbers? No. It reflects the conflict between the financial markets' and political demands for information now and the fact that the first whack at any economic report is a rough estimate at best. A guess, really. And the picture becomes clearer as time goes on.
The private sector doesn't do any better. Every month, payroll processor Automated Data Processing issues its ADP National Employment Report, an estimate of private sector job growth. But it gets revised as well in subsequent months.
More on moneyNOW
DATA PROVIDERS
Copyright © 2014 Microsoft. All rights reserved.
Fundamental company data and historical chart data provided by Morningstar Inc. Real-time index quotes and delayed quotes supplied by Morningstar Inc. Quotes delayed by up to 15 minutes, except where indicated otherwise. Fund summary, fund performance and dividend data provided by Morningstar Inc. Analyst recommendations provided by Zacks Investment Research. StockScouter data provided by Verus Analytics. IPO data provided by Hoover's Inc. Index membership data provided by Morningstar Inc.
MARKET UPDATE
[BRIEFING.COM] The stock market finished the Tuesday session on the defensive after spending the entire day in a steady retreat. The S&P 500 (-0.6%) posted its third consecutive decline, while the small-cap Russell 2000 (-0.9%) slipped behind the broader market during afternoon action.

Equity indices were pressured from the start following some overnight developments that weighed on sentiment. The market tried to overcome the early weakness, but could not stage a sustained rebound, ... More
More Market News