NJ schools add armed officers at steep cost
One wealthy township is stationing the officers in schools for 90 days. Added security is a top concern for educators and parents after last month's Connecticut shootings.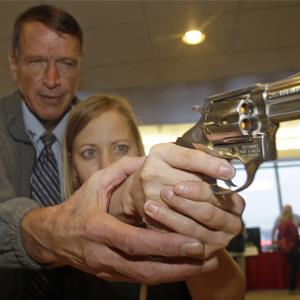 Eight armed police officers have begun temporarily patrolling school district buildings in Marlboro, N.J., a wealthy New Jersey enclave about 40 miles south of New York City.
The new policy may not have garnered much attention before. But arming school guards has been a hotly debated subject in the weeks since a 20-year-old gunman stormed into Sandy Hook Elementary in Newtown, Conn., and killed 20 children and six educators.
Hiring armed security officers, an idea advocated by the National Rifle Association, may cost the nation's cash-strapped schools more than $5 billion,
according to published reports.
The cost for the patrols by eight off-duty Marlboro police officers for the next 90 days is expected to be $100,000, district spokeswoman Sharon Witchell said in an interview. Marlboro schools already have two armed officers, and before the Newtown massacre there was no conversation about increasing that number. An assessment will be done after 90 days and the district will decide what action to take next, such as hiring a security consultant.
Marlboro is hardly alone. In the days after the senseless slaughter at Sandy Hook, many schools have reviewed their security policies. My son's elementary school, for instance, now requires visitors to show photo identification before entering the building. But the NRA's call for "armed guards" in schools and allowing teachers and other personnel to carry weapons has aroused much concern among educators. Experts have cautioned that it could create costly insurance liabilities for districts in the event of a gun fight in which innocent people were shot and possibly killed.
Though President Obama has eloquently expressed the nation's heartache over Newtown, under his administration funding for programs to combat school violence has been cut and more emphasis has been put on bullying prevention, according to Ken Trump, a school safety expert.
"While no one can say whether these programs would have specifically prevented the Sandy Hook attack, it can easily be argued that the elimination of these federal grant programs de-emphasized school security, school police, school emergency preparedness, and school violence," he wrote
on his blog,
adding the Obama administration has "quietly eliminated all programs associated with the security, policing, emergency preparedness, violence prevention, and mental health school safety programs."
The track record of police officers in schools is a mixed one. Many experts
have argued that
the Drug Abuse Resistance Education, a program in which officers educated kids about the dangers of drug and alcohol abuse, was ineffective. There is no guarantee that they could have prevented the tragedy at Newtown. Indeed, many commentators have noted that an armed officer was on duty in 1999 during the mass shooting at Columbine High School. 
"We do not object to increased funding for school resource officers, but would like to see more emphasis placed upon school resource officers and educators being trained together in bullying, school safety, cultural competence, positive behavioral supports, and appropriate classroom management," writes Kim Anderson, the National Education Association's senior director of its Center for Advocacy and Outreach, in an email. "We are also mindful that school districts should not simply use the presence of an (armed officer) to improperly substitute criminal justice-oriented treatment of students rather than appropriate implementation of effective school conduct codes and discipline policies."
About 23% of the nation's school districts have law enforcement officers in their buildings, according to Francisco Negron, general counsel of the National School Boards Association. These officers typically earn about $80,000 per year. The group hasn't taken a position on whether more teachers and other school personnel should be armed.
"Different communities have different needs," he said, adding that the NSBA is concerned that policy makers could institute a one-size-fits-all approach to school safety in the aftermath of Newtown. "These are things that have to be decided on a local basis."
NRA head
Wayne LaPierre
has argued that there are plenty of people with weapons training such as members of the military who could be deployed to protect kids in schools right away. They aren't the same, though, as sworn police officers with additional training in counseling so they can build a rapport with students.  

Follow Jonathan Berr on Twitter @jdberr
More on Money Now

DATA PROVIDERS
Copyright © 2014 Microsoft. All rights reserved.
Fundamental company data and historical chart data provided by Morningstar Inc. Real-time index quotes and delayed quotes supplied by Morningstar Inc. Quotes delayed by up to 15 minutes, except where indicated otherwise. Fund summary, fund performance and dividend data provided by Morningstar Inc. Analyst recommendations provided by Zacks Investment Research. StockScouter data provided by Verus Analytics. IPO data provided by Hoover's Inc. Index membership data provided by Morningstar Inc.
MARKET UPDATE
[BRIEFING.COM] The stock market finished the Tuesday session on the defensive after spending the entire day in a steady retreat. The S&P 500 (-0.6%) posted its third consecutive decline, while the small-cap Russell 2000 (-0.9%) slipped behind the broader market during afternoon action.

Equity indices were pressured from the start following some overnight developments that weighed on sentiment. The market tried to overcome the early weakness, but could not stage a sustained rebound, ... More
More Market News