Netflix ranks the fastest Internet providers
Google Fiber wins despite only serving two cities while DSL and wireless services get a scolding.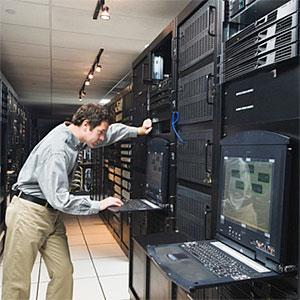 Netflix (NFLX) is tracking the fastest Internet speeds in the U.S. and, unless you live in one of two favored cities near the center of the country, there's no way your service provider is No. 1.
The streaming video and DVD-by-mail service kicked off its monthly ranking of Internet service providers with a blog entry on Tuesday. Netflix's stated purpose for this rankings is helping customers avoid the red status bar of doom that accompanies slow connections and interrupts streaming, but for many customers it just points out the shortcomings of what's often their only available Internet option.

Sitting atop its initial list is Google (GOOG) Fiber, which streams Netflix video at 2.55 megabits per second (MBPS) and blows past second-place Verizon (VZ) FiOS' 2.19 MBPS output.
"Our 30 million members view over 1 billion hours of Netflix per month, so we have very reliable data for consumers to compare ISPs in terms of real world performance," Ken Florance, vice president of content delivery, wrote it the blog post.
There's just one tiny problem with Netflix's list: Just about no one gets Google Fiber. The service is also only available in Kansas City, Mo., and Kansas City, Kan., and only to about 161,000 potential subscribers in the 202 "fiberhoods" Google has carved out of its coverage areas. According to GigaOM, roughly 21,000 signed up for the service before Google's registration deadline in September. By comparison, Verizon FiOS is in more than 17 million homes nationwide despite being restricted largely to urban areas with lots of fiber-optic cable.
This alludes to yet another issue with the Netflix rankings. The speedy Internet service of No. 3 Comcast (CMCSA) (2.17 MBPS), No. 4 Charter (CHTR) (2.17 MBPS), No. 5 Cablevision (CVC) (2.15 MBPS) and even Time Warner Cable (TWC) (2.12) and Cox (2.07) at Nos. 7 and 9 is all based in fiber-optic infrastructure. That's great for most city dwellers and folks in outlying suburbs, but if you can't see your mailbox from your front porch and have to truck your garbage and recycling to the foot of your driveway, chances are you're not getting these services.
"Broadly, cable shows better than DSL," Florance writes.
That's great, but when a viewer's Internet option is carried over a phone line or through a wireless network, they're relegated to pixelated, second-class citizenship by Netflix, Hulu, Wal-Mart's (WMT) Vudu and other services that stream in high definition. Verizon customers in Boston, for example, can't get FiOS because Verizon doesn't have any fiber-optic cable of its own in a largely Comcast town. If Internet users there want Verizon service, they're stuck with Verizon's pokey DSL offering that, at 1.37 MBPS, is 41% slower than FiOS.
Even AT&T (T) U-verse, which is a combination of fiber and DSL service, is still 11% slower than Verizon FiOS, according to Netflix's data. Downgrade to the 4G WiMax wireless Internet service offered by recent Sprint acquisition Clearwire (1.19 MBPS), and you're operating at less than half of Verizon or Google's speed.
Netflix's new rankings exist to flog Internet service providers into quickening the pace and opening up the broadband pipeline. If they don't shrink the disparity between urban subscribers and their more remote counterparts, then Netflix is basically warning DSL and wireless customers away from its service. That's no way to get folks to watch all that Netflix content that's putting the company nearly $5 billion in debt.
More from Money Now
Are you sure you want to delete this comment?
DATA PROVIDERS
Copyright © 2014 Microsoft. All rights reserved.
Fundamental company data and historical chart data provided by Morningstar Inc. Real-time index quotes and delayed quotes supplied by Morningstar Inc. Quotes delayed by up to 15 minutes, except where indicated otherwise. Fund summary, fund performance and dividend data provided by Morningstar Inc. Analyst recommendations provided by Zacks Investment Research. StockScouter data provided by Verus Analytics. IPO data provided by Hoover's Inc. Index membership data provided by Morningstar Inc.
MARKET UPDATE
[BRIEFING.COM] The stock market finished an upbeat week on a mixed note. The S&P 500 shed less than a point, ending the week higher by 1.3%, while the Dow Jones Industrial Average (+0.1%) cemented a 1.7% advance for the week. High-beta names underperformed, which weighed on the Nasdaq Composite (-0.3%) and the Russell 2000 (-1.3%).

Equity indices displayed strength in the early going with the S&P 500 tagging the 2,019 level during the opening 30 minutes of the action. However, ... More
More Market News