Brand-name drug prices skyrocket
Prices for generics, however, are falling. Consumers who have the choice are crazy not to go for generic drugs.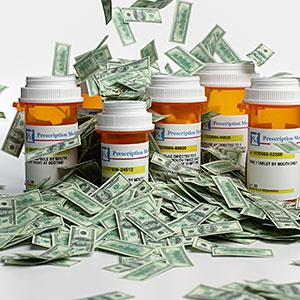 Every time I hear about rising drug prices, I think about how lucky I am that my medications are low-priced generics. Many others are not as fortunate.
A study released by
Express Scripts
found that prices for brand-name drugs rose 13.2% this year, more than six times the rate of inflation. Conversely, prices for generics went down by about 22% during that same time (from September 2011 to September 2012). The pharmaceutical industry, not surprisingly, is
disputing the study's findings
, saying it was skewed because it included expensive specialty medicines. A spokesperson for the Pharmaceutical Research and Manufacturers of America couldn't immediately be reached.
Express Scripts' report, though, should be a wakeup call even to the healthy, who wind up paying the costs of these drugs either through their health insurance premiums or tax dollars for entitlement programs. 
"What it all points to is this: Patients choosing a market basket of brand-name medications instead of clinically equivalent generics are being charged a higher premium than ever before,"
according to the pharmacy benefits manager
. "The financial incentive for both patients and their plan sponsors to switch to generics has never been greater."
Some people are forced to decide between paying their mortgage and their medicine. A study
published in 2009
found that medical bills are a factor in more than 60% of personal bankruptcies. Overall health care expenditures hit more than $2 trillion in 2010, more than 10 times the $256 billion spent in 1980, according to the
Kaiser Family Foundation.
Rising drug costs are one of the main culprits behind all of these problems.
People who have multiple sclerosis know this issue all too well. Some medications to treat the neurological disorder can cost $30,000 a year. A study published in the journal Neurology found that these medications were very expensive and marginally beneficial, according to the
New York Times
.   MS patients try to stretch their health care dollars by skipping doses and splitting pills.
"They have to give up vacations and certain kinds of family events because they just don't have the disposable income," said Dr. Nicholas LaRocca, vice president of health care delivery and policy at the National Multiple Sclerosis Society, in an interview.
The Express Scripts study also found that spending on specialty medicines has increased nearly 23% this year while spending on traditional medicines declined, which illustrates how competition can help keep prices down for everyone. Specialty medicines are also quite lucrative. As the
New York Times
noted, all but one of the new drugs approved in third quarter were specialty medicines, many of which were approved to treat advanced cancers that other treatments had failed to address. 
I am fortunate that the cost to treat my condition averages about $15 every other month and is being managed effectively.  Maybe one day, a big pharmaceutical company will develop an expensive blockbuster treatment, but I will cross that bridge when that happens. Maybe like millions of other Americans, I will buy my medications from low-cost Canadian pharmacies.
--Follow Jonathan Berr on Twitter @jdberr
. 
Adds details on MS
More from Money Now
DATA PROVIDERS
Copyright © 2014 Microsoft. All rights reserved.
Fundamental company data and historical chart data provided by Morningstar Inc. Real-time index quotes and delayed quotes supplied by Morningstar Inc. Quotes delayed by up to 15 minutes, except where indicated otherwise. Fund summary, fund performance and dividend data provided by Morningstar Inc. Analyst recommendations provided by Zacks Investment Research. StockScouter data provided by Verus Analytics. IPO data provided by Hoover's Inc. Index membership data provided by Morningstar Inc.
MARKET UPDATE
[BRIEFING.COM] The stock market finished the Tuesday session on the defensive after spending the entire day in a steady retreat. The S&P 500 (-0.6%) posted its third consecutive decline, while the small-cap Russell 2000 (-0.9%) slipped behind the broader market during afternoon action.

Equity indices were pressured from the start following some overnight developments that weighed on sentiment. The market tried to overcome the early weakness, but could not stage a sustained rebound, ... More
More Market News