Facebook 'friends' making you crazy? You're not alone
A recent study finds users are more anxious about offending, now that Mom, Dad and the boss are watching.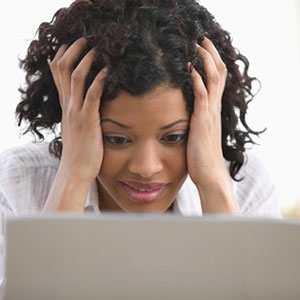 If you've always suspected it, science just confirmed it: All those Facebook (FB) friends are working your last nerve.
A study by the University of Edinburgh Business School in Scotland just backed up what most of the Facebook-using world has been learning since the site stopped restricting membership to college students and opened its profile pages to everybody: The more Facebook friends you have, the more stressed you may be.

Facebook hasn't been a good place to speak off the cuff or post potentially embarrassing photos for a while now, but it's even more fraught with peril now that the grownups are all over it and their delicate sensibilities are more easily offended by the things you post.
"Facebook used to be like a great party for all your friends where you can dance, drink and flirt. But now with your Mum, Dad and boss there, the party becomes an anxious event full of potential social landmines," said Ben Marder, a marketing fellow at the University of Edinburgh who wrote the report.
It is absolutely no fun on Facebook these days. Forbes is telling potential employers to scour your profile before hiring you. Handing over your Facebook password is reportedly a mandatory part of the interview process at some companies. While your personal conduct on Facebook has always been up for grabs, the contents of your site can generate enough of a furor that the online masses can force an employer to fire you even if they're initially supportive of your online speech.
Even when employers don't pry into your publicly posted "private" life, Facebook's a tough place to be. True privacy is at a premium. Information that was once confined to the Facebook ecosystem is now out there for the world to see. Your relentlessly upbeat friends who post photos of dinners that look like Bon Appetit covers, present parenting as one fun-filled smartphone photo session and document their lives as one big string of achievements and whirlwind vacations are making you miserable. The whole thing's even making life itself seem less fair.


Now Mom's critiquing how much you drink on the weekends, Dad wishes you'd stop swearing and riding your bike in traffic and your racist uncle is making both your Facebook feed and the holiday table extremely uncomfortable places to be during an election year. That may be just about the best summary of Facebook in 2012: a never-ending Thanksgiving vacation. You can't escape the relatives and their stories, you keep trying to duck work before someone suggests you come in on Friday and, all the while, somebody in the background keeps trying to sell you something.
Does that mean people are cutting back on friends or Facebook time? Not at all. Vain Americans are far too concerned with keeping up appearances to trim their friend count. An entire generation finds Facebook harder to turn down than sex.
Social networking is turning Facebook into a cluster of harried house guests as chaste as shimmery teen vampires. Facebook users would do something about it, but those idiosyncrasies are among the few things they can complain about on Facebook without getting in trouble for it.
More from Money Now
DATA PROVIDERS
Copyright © 2014 Microsoft. All rights reserved.
Fundamental company data and historical chart data provided by Morningstar Inc. Real-time index quotes and delayed quotes supplied by Morningstar Inc. Quotes delayed by up to 15 minutes, except where indicated otherwise. Fund summary, fund performance and dividend data provided by Morningstar Inc. Analyst recommendations provided by Zacks Investment Research. StockScouter data provided by Verus Analytics. IPO data provided by Hoover's Inc. Index membership data provided by Morningstar Inc.
MARKET UPDATE
[BRIEFING.COM] S&P futures vs fair value: -6.60. Nasdaq futures vs fair value: -14.50. The S&P 500 futures trade seven points below fair value.

Markets across most of Asia ended on a lower note, while Japan's Nikkei was closed for Autumn Equinox.

Economic data was limited:

China's HSBC Manufacturing PMI ticked up to 50.5 from 50.2 (expected 50.0)
Singapore's CPI eased to 0.9% year-over-year (expected 1.2%; previous ... More
More Market News