Sequester inflicts real pain on cancer patients
The mandatory budget cuts are forcing chemotherapy clinics to make a difficult choice: Turn away patients or risk bankruptcy.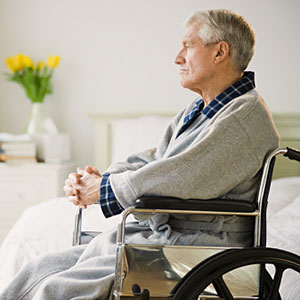 If federal workers being furloughed for days doesn't make the sequester seem real enough for you, maybe getting turned away at a cancer clinic will help the mandatory round of tax hikes and spending cuts sink in.
According to The Washington Post's Wonkblog, cancer clinics across the country are turning away thousands of patients after cuts that went into effect on April 1 made administering expensive chemotherapy drugs too costly for many facilities to sustain. Clinics are funneling patients to already busy hospitals while saying that continuing the status quo would bankrupt them in six months to a year.
The cuts are particularly troublesome for Medicare patients, roughly a third of whom are losing their treatments as a result. Lawmakers tried to limit the impact on Medicare patients by keeping cuts to the program at 2%. Unfortunately for cancer patients, that 2% is falling almost squarely on the portion of the program that doles out their drugs.
Medications for seniors are usually covered under the Medicare Part D option, which includes private insurance. But cancer drugs have to be administered by doctors and fall under Part B's coverage of doctor visits, which are subject to the sequester cut.
That's not sitting well with clinic oncologists, who are typically paid by the government for the costs of chemotherapy drugs, plus 6% to cover the cost of storing and administering them. Since drug costs are fixed, the sequester cut would come directly out of oncologists' other costs, which makes it a far more potent reduction for doctors.
Oncologists are trying to get lawmakers to exempt cancer drugs from the sequester cuts or, at the very least, reduce only the amount of money doctors take to administer the drugs. Patients, however, don't have time to wait around and see how this turns out. So, they're already heading to hospitals.
That's going to blunt some of the intended effects of the sequester cut, as research firm Milliman notes that chemotherapy performed at hospitals is, on average, $6,500 more costly than when administered at community clinics.
Even those looking to make cuts to current health care costs say this isn't the best way to make them.
"I don't think there was an intention to disrupt care or move it into a more expensive setting," Cathy Schoen, senior vice president of the Commonwealth Fund, which recently released a plan for cutting $2 trillion in health spending, told Wonkblog. "If that's the case, we're being penny-wise and a pound-foolish with these cuts."
DATA PROVIDERS
Copyright © 2014 Microsoft. All rights reserved.
Fundamental company data and historical chart data provided by Morningstar Inc. Real-time index quotes and delayed quotes supplied by Morningstar Inc. Quotes delayed by up to 15 minutes, except where indicated otherwise. Fund summary, fund performance and dividend data provided by Morningstar Inc. Analyst recommendations provided by Zacks Investment Research. StockScouter data provided by Verus Analytics. IPO data provided by Hoover's Inc. Index membership data provided by Morningstar Inc.
MARKET UPDATE
[BRIEFING.COM] The stock market began the new trading week on the defensive note with small-cap stocks pacing the retreat. The Russell 2000 (-1.4%) and Nasdaq Composite (-1.1%) displayed relative weakness, while the S&P 500 lost 0.8% with all ten sectors ending in the red.

Global equities began showing some cracks overnight after China's Finance Minister Lou Jiwei poured cold water on hopes for new stimulus measures. Specifically, Mr. Lou said the government has no plans to change ... More
More Market News