Hunting season brings cash windfall to states
From rangefinders to license fees, the money spent by hunters is a crucial revenue source for many local economies.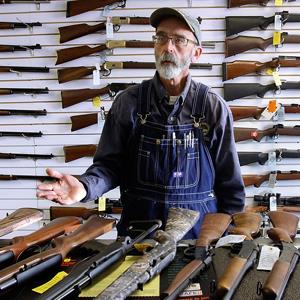 Depending on where you live in the United States, deer hunting season is either wrapping up, starting this week or already in full swing. But no matter where you are in the season, observers say it's been a good year for the hunting industry.
According to the National Shooting Sports Foundation, there was a 9% increase in the number of hunters last year compared with 2006. And if seen as an economic sector, those hunters have a significant financial impact.
"To put it in perspective, the 37 million sportsmen and women over the age of 16 in America is the same as the population of the state of California, and the $90 billion they spent in 2011 is the same as the global sales of Apple's iPad and iPhone in the same year," said Jeff Crane, president of the Congressional Sportsmen's Foundation, in a press statement.
"Hunting and fishing have been, and clearly continue to be, important elements of our country's outdoor heritage and they are critically important to our nation's economy -- particularly the small local economies that support quality hunting and fishing opportunities."
Ohio is a prime example of regional and small-town economies benefiting from hunters. The state expects the deer-gun season, which began on Monday, to draw about 420,000 hunters this year -- bringing in $859 million annually in lodging, fuel, food, equipment sales and other related expenses.

Coshocton County in central Ohio -- one of the state's primary deer hunting spots -- and its local economy swells every hunting season. "It just seems like it gets bigger and better every year," notes Joe Miller, who manages Woodbury Outfitters in Coshocton. "And not just for us, but it extends out in the whole community. The restaurants, gas stations, the hotels that are booked up."
Hunting licenses and fees are also an important part of many state's annual revenue, especially in economic hard times. Officials in Wyoming are considering a proposal to raise the cost of their hunting and fishing licenses by over 21% to make up for a state revenue shortfall of between $8 and $10 million.
One of the biggest hunting-related money makers for some states is out-of-state hunting licenses. A Colorado resident pays the state $34 dollars to go deer hunting -- but the cost for a non-resident is over 10 times that much. And non-resident fees to hunt more exotic game, like Rocky Mountain Bighorn Sheep, are an astronomical $1,919 compared to the $254 a state resident must pay. South Dakota has also raised the cost of its non-resident hunting licenses, a move that's expected to bring in additional annual state revenue of over $1 million.

And of course, there's the cost of getting yourself outfitted. Larry Whiteley, manager of communications for outdoor retail giant Bass Pro Shops, estimates it takes about $1,000 for an absolute beginner to get equipped for deer hunting -- when you consider the costs of a gun, ammunition, boots, rangefinder, scope, binoculars and other related equipment. "But you could go for less, wearing work boots and stuff," he says.
And while he wouldn't go into particulars on the company's best-selling firearms, Whiteley says the Remington .270 and Winchester (OLN) .30-30 are perennial favorites and continue to remain popular.

And he confirmed a phenomenon that recent data proves as well: Women and girls have become one of the fastest-growing segments of the U.S. hunting industry, particularly over the past five years or so.

The Wisconsin Department of Natural Resources says women make up 9.5% of the state's more than 614,000 gun deer hunters this year -- and up from 9% in 2011. Women and girls also accounted for 32% of the state's sales of first-time, resident gun-deer licenses and 30% of first-time, resident junior gun-deer licenses.
"Getting women and youth involved in hunting is essential for continuing our state's hunting heritage," Wisconsin Department of Natural Resources Secretary Cathy Stepp told Madison.com. "When women and moms are involved, the family follows."

More from Money Now

A windfall is an unexpected event that brings money into the coffers, not a seasonal event you have to hold out for to keep from going bankrupt.  Deer hunting season or tourist season, or summer, winter, fall, or winter etc. can not be considered a windfall.  Go back to journalism school if you ever attended or consult your dictionary. 


Coshocton County not only has great hunting, but the small city of Coshocton has friendly people,great parks, three rivers meet there to offer great fishing and boating down to the Ohio River.  Coshocton County is a basically safe and lovely small town.  It also has historic Roscoe Village with its lovely shops, and restuarants with great food. We also have and are just miles from the largest Amish population in the USA.  Hunters should bring their wives and families with them to hunt or shop in Rosoce or Amish country.  Hope to See you soon.  Small town living is great.  We get for $300,000 in a home what you pay almost a million for in the DC area. 
sharirose78

Take a fish from a fisherman everyday and give it to a lazy man and become his keeper ( and the recipient of his vote) for life while the number of fishermen declines.
Teach a man to fish and watch the number of fishermen grow.
Dems promote dependency, repubs promote opportunity. Just think of how many foreigners come here and within 2 generations do much better than multi generations of poor Americans. Dems have removed the ambition and work ethic and replaced it with handouts entitlements. America has been promoting acceptance of failure and freeloading. Dems want a safety net for every accident, pieces of bad luck, tragedy, and stupid decision they make. And of course its always someone else's fault. The employer or the rich guy. Dems are real good at the blame game. Its much tougher to look in the mirror and see the cause of your poor lot in life. So if you cant take responsibility for where you are at, you sure are going to get far. 
Are you sure you want to delete this comment?
DATA PROVIDERS
Copyright © 2014 Microsoft. All rights reserved.
Fundamental company data and historical chart data provided by Morningstar Inc. Real-time index quotes and delayed quotes supplied by Morningstar Inc. Quotes delayed by up to 15 minutes, except where indicated otherwise. Fund summary, fund performance and dividend data provided by Morningstar Inc. Analyst recommendations provided by Zacks Investment Research. StockScouter data provided by Verus Analytics. IPO data provided by Hoover's Inc. Index membership data provided by Morningstar Inc.
MARKET UPDATE
[BRIEFING.COM] The stock market finished the Tuesday session on the defensive after spending the entire day in a steady retreat. The S&P 500 (-0.6%) posted its third consecutive decline, while the small-cap Russell 2000 (-0.9%) slipped behind the broader market during afternoon action.

Equity indices were pressured from the start following some overnight developments that weighed on sentiment. The market tried to overcome the early weakness, but could not stage a sustained rebound, ... More
More Market News