Hard times mean relighting tossed cigarettes
A study finds cash-strapped people who smoke leftovers consume fewer cigarettes but may be taking greater health risks.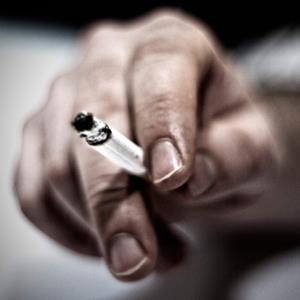 So how bad did the recession get for cigarette smokers? Apparently bad enough to pick up any stray cigarette butt they came across and relight it.
Living every day like a lyric from Roger Miller's "King of the Road" -- "I smoke old stogies I have found / short but not too big around" -- 46% of smokers in a new study reported relighting cigarette butts in an effort to save cash during a tough economy. Conducted by The Tobacco Dependence Program at the Cancer Institute of New Jersey, the study found that relighters smoked fewer cigarettes a day than those who didn't (16 instead of 20). But women, African-Americans and smokers who are divorced, widowed or separated were more likely to relight than their counterparts.
They were also no less likely to avoid some of the nastier effects of cigarette smoking. Doctors conducting the study say relighters may be at higher risk of developing lung cancer or chronic bronchitis.
While the study aimed to determine how to medicate people with these behaviors when they seek treatment and how to counsel those who want to break such habits, it's also a warning that such small cutbacks in tobacco use aren't necessarily better for those making them.
Beyond the unclean element, the stuff concentrated into the butt end of those castoffs can be just as unpleasant. Earlier this month, for example, cigarillo makers disclosed that their filters commonly contain a gritty gray substance known as sepiolite. Americans know it best as a primary ingredient in kitty litter.
Those filters the relighters are sucking on for a second time also contain a dissolving pulp similar to rayon. That's not only a key element of those tacky Hawaiian shirts from the 1980s, but it's also found in flat-screen TVs, paint thickeners and diapers.

So what makes people do this? The study indicates that this behavior is more prevalent among smokers who started at a younger age, have fewer cigarettes per day, smoke menthol cigarettes and wake up at night to smoke. More important, having a high school degree or less and being unemployed, sick or disabled are the ties that bind folks scouring ashtrays for butts.
DATA PROVIDERS
Copyright © 2014 Microsoft. All rights reserved.
Fundamental company data and historical chart data provided by Morningstar Inc. Real-time index quotes and delayed quotes supplied by Morningstar Inc. Quotes delayed by up to 15 minutes, except where indicated otherwise. Fund summary, fund performance and dividend data provided by Morningstar Inc. Analyst recommendations provided by Zacks Investment Research. StockScouter data provided by Verus Analytics. IPO data provided by Hoover's Inc. Index membership data provided by Morningstar Inc.
MARKET UPDATE
[BRIEFING.COM] The IMF expressed its concerns before the start of today's trading that "excessive risk taking may be building up" with valuations for just about every major asset class looking stretched.

As one can see from the standing of the major indices, that warning went in one of the market's ears and out the other. Actually, we're not even sure it went in one ear. The market started with a bullish bias and has maintained that bias throughout today's session.

The ... More
More Market News
TOP STOCKS
Meet Alibaba's new billionaires
Despite its size, the IPO will create just two new members of the 10-figure club from its executive ranks. A few others could net hundreds of millions.