Mystery links foul the world's food chain
Donkey meat and non-organic eggs are just the latest items lacking labels at supermarkets across the globe.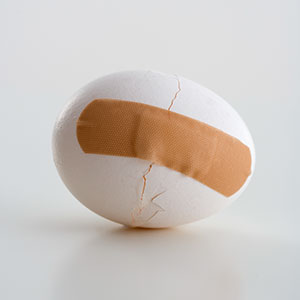 You could place a Magic 8 Ball in your kitchen and ask it about the ingredients in your food and it would still be more correct than food companies have been during the last few weeks.
Is that beef in my Ikea meatballs? Answer: Don't count on it. Is that tuna in my tuna melt? Answer: Very Doubtful. Is that horse meat in my ravioli? Answer: Signs point to yes. Is that a bit of rubber glove in my sausage? Outlook good.
With the food industry can't be trusted to keep horse DNA out of hamburger for more than 24 hours at a clip, the stream of food complaints as swelled beyond its banks to more than any one story can contain.

As a result, our most recent installment of "This Day In Surprise Food Ingredients" contains not one, but two tales of mystery meats making their way past the oblivious palates of modern eaters around the world. As the route from farm to table becomes more circuitous and consumers' curiosity leads them to wonder about the sudden toughness of their ready-made meals, there may be a lot more of these dispatches to come:
Ich bin ein organic egg: Prosecutors in the German city of Oldenburg are investigating 150 farms in Northern Germany to see if they are making false claims about their eggs, The Associated Press reports. The prosecutors said Monday that they have serious doubts about whether eggs labeled "organic" or "free-range" actually came from organically-fed or free-range chickens.
If the chickens were given genetically modified feed or kept in crowded pens -- as prosecutors suspect -- it would constitute "large-scale fraud" in a country still digesting food-quality concerns related to the ongoing European horse meat scare.
Mixing it up in South Africa: Blending some horse meat in with the ground beef will still get you some press, but it's becoming so passe and blandly European. South Africa, for example, gets far more exotic by blending water buffalo and goat into its burgers, ground beef and sausage.
Oh, and it throws in some donkey, too.
According to the AP, a study published by professors at Stellenbosch University found that 68% of 139 samples contained species not declared on the product's label. This was most often the case in sausages, burger patties and deli meats.
Now South Africa produces some mighty tasty pork, beef, lamb and chicken, but it's what some companies are doing with scraps of those animals and how they're labeling them that's taken the country off guard. While no horse meat has shown up, the study found unreported pork in 37% of samples, gluten in 28% and chicken in 23%. While the professors say the presence of these products in itself isn't so bad, labeling that leads people to believe they're not included is far more troubling.
"It's all about people having the right to know," Professor Louwrens C. Hoffman said Tuesday about the contents of South African sausage and beef patties. "There's nothing wrong with eating donkey if you like donkey, but if you don't, you have the right to know."

We should do away with the FDA as they are not protecting us from bad food
They are protecting producers of bad food from the law.
Case in point they knew a certain meat packing plant was sending out bad meat and did nothing for 3 years while over 53 people died from the posioned beef.
They claim that even though they knew the beef was killing people they had no mandate to stop the company from selling the bad beef.
Gee give me a break that is exactly the FDA's mandate why do you think they were created in the first place bad milk was killing people back in the early 1900's and the FDA was started to shut those bad milk producers down.
Now they are allowing illegal medicines to be feed to cattle,chickens
letting cows with mad cow into the main stream food supply
they can not even fine a company one of their meat inspectors sees feces going into the hamburger meat.
They are corrupt and should be in jail but then again the government itself is run by crooks look at Geithner a tax evader being put in charge of the IRS.
Are you sure you want to delete this comment?
DATA PROVIDERS
Copyright © 2014 Microsoft. All rights reserved.
Fundamental company data and historical chart data provided by Morningstar Inc. Real-time index quotes and delayed quotes supplied by Morningstar Inc. Quotes delayed by up to 15 minutes, except where indicated otherwise. Fund summary, fund performance and dividend data provided by Morningstar Inc. Analyst recommendations provided by Zacks Investment Research. StockScouter data provided by Verus Analytics. IPO data provided by Hoover's Inc. Index membership data provided by Morningstar Inc.
MARKET UPDATE
[BRIEFING.COM] The stock market finished an upbeat week on a mixed note. The S&P 500 shed less than a point, ending the week higher by 1.3%, while the Dow Jones Industrial Average (+0.1%) cemented a 1.7% advance for the week. High-beta names underperformed, which weighed on the Nasdaq Composite (-0.3%) and the Russell 2000 (-1.3%).

Equity indices displayed strength in the early going with the S&P 500 tagging the 2,019 level during the opening 30 minutes of the action. However, ... More
More Market News