Why it seems your income is treading water
Most Americans' compensation has risen only $59 since 1966, according to a new analysis. The top 10% of earners fared far better.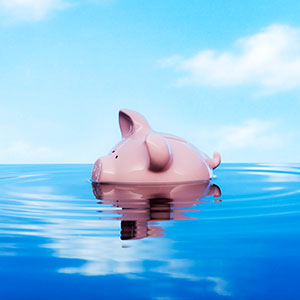 A lot has changed since 1966, when "Star Trek" first aired on TV and Toyota (TM) introduced the Corolla. 

But one thing that hasn't budged much is Americans' inflation-adjusted income, according to a tax analysis by Pulitzer Prize-winning journalist David Cay Johnston.
For Americans in the bottom 90%, the "vast majority averaged a mere $59 more in 2011 than in 1966," writes Johnston, who adds that the figure is "jaw-dropping."
That means most Americans gained only enough income to buy movie tickets, popcorn and soda for a family of four -- for just one visit to the multiplex per year. 
Not all Americans saw their wages stagnate, however. Since 1966, the top 10% of earners saw their incomes jump by $116,071, reaching $254,864 in 2011, Johnston writes. His analysis is based on research by economists Emmanuel Saez and Thomas Piketty. (As I wrote in MSN moneyNOW last month, Berkeley economist Saez recently found that only the top 1% saw average real income growth between 2009 and 2011.)

"That disparity in income growth rates comes as the total federal tax burdens on those at the top have been slashed, compared with 1966, especially for the long-term capital gains that account for about a third of total income at the very top," Johnston points out. 
Johnston's analysis provides a sobering long-term look at why so many Americans feel they're working harder than ever to keep their heads above water. With rising costs for everything from food to a college education, a $59 income gain over four decades isn't going to help.

To be sure, some other recent research indicates the rich have gotten socked by higher taxes, with federal tax bills approaching 30-year highs. 
But in more bad news for America's struggling middle and lower classes, the very rich don't necessarily have priorities that align with have-nots, according a study from Vanderbilt University researchers. 
Today's Daddy Warbucks "are much less willing than others to provide broad educational opportunities, including 'spend(ing) whatever is necessary to ensure that all children have really good public schools they can go to' or 'mak(ing) sure that everyone who wants to go to college can do so,'" according to the researchers, who surveyed 83 Chicago-area residents with an average wealth of $14 million. 
The elite also oppose government redistribution of wealth, favor lower estate tax rates and lean toward supporting cuts in social programs such as Social Security to reduce the deficit, the study found. 
But the uber-wealthy are also more likely to be politically active, with two-thirds of them contributing to campaigns and giving an average of $4,633 to candidates or organizations in the previous year. 
DATA PROVIDERS
Copyright © 2014 Microsoft. All rights reserved.
Fundamental company data and historical chart data provided by Morningstar Inc. Real-time index quotes and delayed quotes supplied by Morningstar Inc. Quotes delayed by up to 15 minutes, except where indicated otherwise. Fund summary, fund performance and dividend data provided by Morningstar Inc. Analyst recommendations provided by Zacks Investment Research. StockScouter data provided by Verus Analytics. IPO data provided by Hoover's Inc. Index membership data provided by Morningstar Inc.
MARKET UPDATE
[BRIEFING.COM] S&P futures vs fair value: -6.30. Nasdaq futures vs fair value: -14.80. U.S. equity futures trade hover near their pre-market lows amid cautious action overseas. The S&P 500 futures hover six points below fair value, which puts the benchmark index on track to continue its retreat after losing 0.8% yesterday.

Overnight, markets in Asia traded in mixed fashion, but sentiment worsened after the start of the European session, where all the key indices hold losses ... More
More Market News