Agritourism: Where the farm and vacationers meet
More farmers and ranchers are now adding Earth Day, visitor-friendly activities as a way of creating new revenue.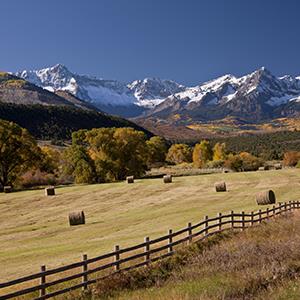 As folks everywhere celebrate Earth Day today, many of them are looking for new ways to get closer to nature. And as winter finally winds down, many states are polishing up their financially important tourism programs to welcome domestic and international visitors. At the moment, the U.S. travel industry is one of the nation's strongest business sectors, now employing 7.7 million people.
Rural America is looking for a piece of that action while tapping the growing desire among vacationers for an authentic connection to the natural world. That's leading a growing number of agricultural producers to consider agritourism as a new source of revenue to not only attract the legion of TV program-inspired "foodies" searching for a locavore culinary experience but also the educated and upwardly mobile tourists looking for a new adventure. People want to know more about where their food comes from and how it's produced.
Agritourism "is the crossroads of tourism and agriculture," writes Missouri-based marketing professional Jane Eckert on her website, "when the public visits working farms, ranches or wineries to buy products, enjoy entertainment, participate in activities, shop in a country store, eat a meal or make overnight stays."
According to the 2007 U.S. Census of Agriculture, more than 23,000 farms provided some form of agritourism and recreation to visitors, with those services valued at $566 million.

Eckert says agritourism can be a lifesaver to smaller agricultural operations, which face stiff economic challenges from larger, corporate farms as well as overseas competition.
"Their earnings on commodities and livestock may not even cover production costs," she notes. "But farmers who sell directly to the public -- through fruit stands and farm country stores -- and also add special activities for visitors, find they can continue farming and make a profit."
Some agritourism has been around for decades, including such venues as dude ranches in Wyoming, dairies selling cheese directly to visitors in Vermont and the famous wine tours in California's Napa Valley. But other states are trying to expand on the concept.

Colorado just announced a three-year "action plan" to expand the state's agritourism industry. Laura Grey, heritage and agritourism program manager for the Colorado Tourism Office, said state officials have held 10 meetings on the issue across the state, meeting with hundreds of farmers and ranchers and asking them to bring their own specialties and interests to the table.

As an example, she described a farmer on Colorado's eastern plains who likes to refurbish old windmills. "So that's his personal passion," Grey noted. "He also has a wind farm on this property, so he can talk about the new wind age versus what windmills used to do. He's fourth generation; the information he has inside of him, people want to know."
Both state officials and producers in Colorado hope a diversity of agritourism activities will bring new visitors, and new funding, to all corners of the state.
"Agritourism is becoming a very important tool for rural economic development," said Dan Hobbs with the Hobbs Family Farm in a tourism office press release. "Farm and ranch families will discover new opportunities to become profitable and develop important new allies."
DATA PROVIDERS
Copyright © 2014 Microsoft. All rights reserved.
Fundamental company data and historical chart data provided by Morningstar Inc. Real-time index quotes and delayed quotes supplied by Morningstar Inc. Quotes delayed by up to 15 minutes, except where indicated otherwise. Fund summary, fund performance and dividend data provided by Morningstar Inc. Analyst recommendations provided by Zacks Investment Research. StockScouter data provided by Verus Analytics. IPO data provided by Hoover's Inc. Index membership data provided by Morningstar Inc.
MARKET UPDATE
[BRIEFING.COM] The stock market began the new week on a cautious note. The S&P 500 lost 0.3%, but managed to erase more than half of its opening decline. Thanks to the rebound, the benchmark index reclaimed its 50-day moving average (1976.78) after slipping below that level in the morning.

Equities slumped at the open amid a couple global developments that dampened the overall risk appetite. Continued student protests in Hong Kong and a potential response from China weighed on the ... More
More Market News