'Gangnam Style' pays big for South Korean rapper
Internet memes weren't always so lucrative, but Psy has earned millions with help from Rebecca Black and Antoine Dodson.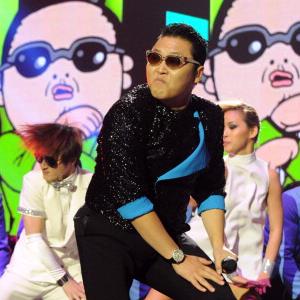 The "meme guy" in your office who sent around the link to the "Bed Intruder Song" and Rebecca Black's "Friday" has been playing it for months.
The receptionists at your dentist's office saw it on Ellen. The rest of the country that still relies on television for its pop culture fix saw it at MTV's Video Music Awards or witnessed it when it got the MC Hammer treatment at the American Music Awards last week.
Now, South Korean rapper Psy's earworm
"Gangnam Style" is YouTube's most-watched video of all time, with more than 805 million views. ChannelMeter estimates it will hit 1 billion views by mid-December. It's also got Psy a shout-out from Google (GOOG) chief exec Larry Page and is making the K-Pop performer also known as Park Jae Sung horse-stable rich as a result.
Not so long ago, if you were the star of a popular Internet meme like Numa Numa, Star Wars Kid or "Chocolate Rain" singer Tay Zonday, you were lucky to avoid ridicule and maybe get some publicity out of the deal. The very thought of getting paid for such a thing was enough to spawn not one but two "South Park" episodes mocking the idea. In a post-"Friday" and post-Antoine Dodson world where musical YouTube memes lead to hundreds of millions of hits and singles on Apple (AAPL) iTunes, a whole lot of the stupidity has been sucked out of the stupid meme.
Take Psy, for example. He wasn't a big name here before Gangnam Style, but he'd crafted a fine career for himself in South Korea. He'd released five albums before the EP containing "Gangnam Style" and had six No. 1 singles in his home country, with the first hitting that mark back in 2001.
His video for "Gangnam Style" didn't catch on because it was embarrassing, terrible or quirky, but because it was infectious, fun, well made and -- to U.S. audiences -- an absolutely insane fit of sauna stepping, explosions and florescent wardrobe. Google's Page referred to "that horse dancing video" on last month's company conference call and asserted that "Gangnam Style" was the new way of doing business in the music world and just about anywhere else.
"Just flip a switch and get worldwide distribution, almost without doing any work," Page said. "That's how we see the future."
It's no longer just a big publicity grab, either. Entrepreneur Jason Calacanis did what most "Gangnam Style" viewers have long dreamed of and crunched the numbers on Psy's 15 stateside minutes of fame. In his e-mail newsletter, he notes that YouTube partners tend to get $2 per 1,000 views and breaks down Psy's windfall like so:
It is likely that the last 100M views were sold out at a higher CPM [cost per 1,000] as the trend broke out. My guess is: $2 for the first 200k views ($400k), then $8 for the last 100M (another $800k for the last 100M views). Total? $1.2M in revenue -- or $20k a day.
That's $800,000 for every 100 million views from 200 million up to the current 800 million. That puts Psy at nearly $5 million just from that one YouTube video alone. That's also before you get to the other videos on Psy's YouTube channel, the 11 cents per single in royalties on the more than 600,000 singles he's sold on iTunes at $1.29 a pop.
It also doesn't factor in what may be the most lucrative boost of all -- the single's impact on Psy's father's semiconductor business. According to Reuters, Park Won-Ho is head of South Korean semiconductor company DI Corp, which saw its market cap double to $101 million after "Gangnam Style" went global in July.
Cnet estimated the meme's worth at roughly $52 million back in early October, "not including the intrinsic value of the brand it's created, and a multitude of revenue streams from shows, merchandising and other licensing deals."
After Napster and the ensuing demise of CD sales, the idea that one song could set you up for life seemed like an antiquated notion relegated to history amid boxes of scratched 45s and well-worn cassingles. Though Psy didn't need "Gangnam Style" to make him a pop success, the windfall from his worldwide Internet exposure may have paved the path to riches and global reach for other regional, non-English-language​ acts. You just need a good product and a cheap, ubiquitous distribution workhorse.
YouTube and iTunes are that horse, and Psy just taught everyone how to ride it.
More from Money Now

I'm sorry and I'm anything but a "hater" when it comes to music, however, I don't get this one at all. I disagree and don't think the song is fun or infectious at all. I do think its stupid, corny and the dance is silly.  I also love pop music, and this so called pop song is just not worth the buzz it's getting, and this guy has  NO REAL TALENT at all. It's sad how so much  bad music is suddenly considered "great" because of You Tube and are making so much money where its not truly deserved.  I don't get it.   South Park was brilliant mocking it, and hoepfully, they will do a show on this song, which I'm sure will be extremely funny.   
Are you sure you want to delete this comment?
DATA PROVIDERS
Copyright © 2014 Microsoft. All rights reserved.
Fundamental company data and historical chart data provided by Morningstar Inc. Real-time index quotes and delayed quotes supplied by Morningstar Inc. Quotes delayed by up to 15 minutes, except where indicated otherwise. Fund summary, fund performance and dividend data provided by Morningstar Inc. Analyst recommendations provided by Zacks Investment Research. StockScouter data provided by Verus Analytics. IPO data provided by Hoover's Inc. Index membership data provided by Morningstar Inc.
MARKET UPDATE
[BRIEFING.COM] The stock market began the new trading week on the defensive note with small-cap stocks pacing the retreat. The Russell 2000 (-1.4%) and Nasdaq Composite (-1.1%) displayed relative weakness, while the S&P 500 lost 0.8% with all ten sectors ending in the red.

Global equities began showing some cracks overnight after China's Finance Minister Lou Jiwei poured cold water on hopes for new stimulus measures. Specifically, Mr. Lou said the government has no plans to change ... More
More Market News