Facts finally make news amid Boston chaos
Local TV stations and a science writing professor school the 24-hour news and social media on getting facts and getting them right.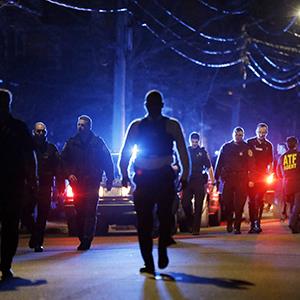 A city shouldn't have to go to bed amid gunfire and explosions and wake up under lockdown for the information it's receiving to matter.
One would have thought that bombs going off in the middle of the Boston Marathon on Monday, killing three people and maiming nearly 200 others, would have signaled the end of play time for the press corps and the start of patient, fact-based journalism.

A teenager in Revere, Mass., who's still afraid to leave his home after being labeled a suspect in the marathon bombing by News Corp.'s (NWS) New York Post can attest to the contrary. As can anyone who watched Time Warner's (TWX) CNN erroneously report on Wednesday that a "dark-skinned male" suspect had been arrested.
After a Massachusetts Institute of Technology police officer was killed Thursday night and a chase, a shootout that left a bombing suspect dead and a citywide manhunt followed, the misinformation didn't stop. Fortunately for people huddled in their homes in the Boston area, a few journalists stopped writing essays and quoting anonymous sources and started waiting on facts and covering what they saw.
Some of the old reporting tools received a thorough and long-overdue workout Thursday. Local television news outlets, including CBS (CBS) affiliate WBZ and NBC's (CMCSA) WHDH, reported from the police perimeter lines in Watertown, Mass. They calmly and unsensationally kept people in the area aware of police movement and activity, reported only the information they had firsthand and received a pat on the back from the Columbia Journalism Review for staying with the story, keeping the cameras rolling and, while showing footage of the shootout itself, not editing for language or content.
People also turned to sites like Tune-In.com or Broadcastify to first-source their information by listening to the Boston Police Department scanners, as many had after the bombings Monday. While that helped quell fears when slammed Watertown dumpsters were mistaken for gunshots, it also played a role in the early misidentification of the bombing suspects.
Twitter was flooded with tweets and retweets that alleged the suspects police were pursuing were not only connected to the Boston Marathon bombings but were "Suspect 1: Mike Mulugeta. Suspect 2: Sunil Tripathi." That information, as the world now knows, was patently false, but that didn't prevent social media from running with it. Commenters on Reddit congratulated each other and sought "Reddit gold" for identifying Tripathi -- a Brown University student who went missing in March -- as a suspect early Friday morning but were apologizing to Tripathi's family just a few hours later.
Tripathi's family issued a statement expressing gratitude for both the mea culpa and offers to help locate Sunil. Still, they've received far more than anyone got out of 4chan, which spent the week identifying just about anyone with a backpack as a suspect in its Think Tank of images and circled individuals.
Fortunately for Boston-area residents, some folks in their midst still used social media and journalism fundamentals in tandem to disseminate factual information and relay events as they were occurring. While Watertown resident Andrew Kitzenburg had the story come to him when the shootout occurred on his street, bullets came through his home and a suspect fled past his house, others in the area sought out the story themselves.
Author and MIT science writing professor Seth Mnookin reportedly spent much of Thursday night into Friday morning tweeting police movements, situation updates and on-scene observations from law enforcement perimeter lines. As police exchanged gunfire with the suspect and dodged and defused explosives, Mnookin meted out details about their locations and instructions to Watertown residents. He also refused to name suspects and connect incidents until all the facts were in, which led to an impromptu lesson from the professor and perhaps the most prescient media-related quote out of Boston all week.
"This is classic I'd rather be late and right scenario. It doesn't matter who's first by five minutes; it does matter if bad info given out."
DATA PROVIDERS
Copyright © 2014 Microsoft. All rights reserved.
Fundamental company data and historical chart data provided by Morningstar Inc. Real-time index quotes and delayed quotes supplied by Morningstar Inc. Quotes delayed by up to 15 minutes, except where indicated otherwise. Fund summary, fund performance and dividend data provided by Morningstar Inc. Analyst recommendations provided by Zacks Investment Research. StockScouter data provided by Verus Analytics. IPO data provided by Hoover's Inc. Index membership data provided by Morningstar Inc.
MARKET UPDATE
[BRIEFING.COM] The stock market began the new trading week on the defensive note with small-cap stocks pacing the retreat. The Russell 2000 (-1.4%) and Nasdaq Composite (-1.1%) displayed relative weakness, while the S&P 500 lost 0.8% with all ten sectors ending in the red.

Global equities began showing some cracks overnight after China's Finance Minister Lou Jiwei poured cold water on hopes for new stimulus measures. Specifically, Mr. Lou said the government has no plans to change ... More
More Market News