Apple rebound pushes shares back above $500
One reason for the gain is an analyst's call that the stock has bottomed and could rally up to $600. The debate rages on whether iPhone sales are slumping.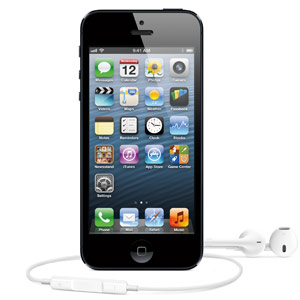 Updated: 4:34 p.m. ET.
Only Tuesday,
Apple
(
AAPL
) shares were getting slammed. On Wednesday, they became hot again.
The shares closed up $21.17 to $506.09 after reaching a high of $509.44. The gain was was the largest for Apple since a $22.58 gain on Dec. 31. The shares were the top performer among
Nasdaq-100
(
$NDX
) and fourth-best among
Standard & Poor's 500
(
$INX
) stocks.
One reason for the surge was a call late Tuesday by Tom DeMark of
Market Studies
, which does market-timing studies. DeMark told CNBC he thought Apple had bottomed on Tuesday; he'd thought the bottom would be $494 or so.
The stock closed Tuesday at $485.92, its first close under $500 in nearly a year and down more than 31% from its peak in mid-September. With Wednesday's gains, the loss has been trimmed to roughly 28%.
What's next? DeMark said Apple could rally up to $600 in the next few weeks.
Another reason was a Forbes.com column suggesting that
The Wall Street Journal may well have been wrong
in a Monday article when it argued that iPhone 5 demand is less than expected. The story based the conclusion on reports that Apple had asked suppliers to cut the number of iPhone 5 display screens by about half for Apple's fiscal second quarter.
The reason anyone cares about The Journal story is that it was a key catalyst that pushed Apple shares down 3.6% on Monday and an additional 3.2% on Tuesday.
The second quarter is one of the slowest of the year for Apple. So, if the company had originally ordered 65 million screens, it did so to be sure there was enough supply, Forbes said.
The company said it sold 5 million units in its first weekend in September. On Dec. 17, the company said it had sold an additional 2 million units in China on their first weekend of availability.
Apple should offer more detail on Jan. 23, when it reports fiscal first-quarter results. The consensus on Wall Street is for earnings of $13.35 a share, down from $13.85 a year earlier. Revenue is expected to jump 17.8% to $54.6 billion. Analysts see earnings accelerating in the third and fourth quarters.
There is, in fact, a huge and expensive debate going on now over Apple, which has been a darling of hedge funds over the past few years. But the selloff that started in mid-September has surprised many investors and analysts.
The stakes seemed to ratchet up this week on The Journal report and Nomura Securities cutting its price target on Apple from $660 to $530.
Nomura analyst Stuart Jeffrey believes the demand for the iPhone 5 hasn't been that robust, and he told CNBC on Tuesday expects the iPhone 5 will face steep competition in emerging markets. That will squeeze profit margins.
More on Money Now
Are you sure you want to delete this comment?
About moneyNOW
MoneyNOW brings users smart, original and entertaining takes on the latest business and investing topics that are buzzing on the Web.
MARKET UPDATE
[BRIEFING.COM]
July crude oil traded in negative territory today following China's HSBC Flash Manufacturing PMI data that showed a first contractionary reading in seven months. The energy component dipped to a session low of $92.21 per barrel in morning action but managed to erase most of the earlier losses as prices rallied to a session high of $94.35 per barrel heading into the close. Crude oil settled just 0.1% lower at $94.14 per barrel.
June natural gas opened floor trade in ... More
More Market News
TOP STOCKS
Many signs point to a dollar rally
With Europe mired in recession, China faltering, commodities declining and stocks looking vulnerable, investors seeking safety will look to the greenback.