Powerball jackpot soars as hopefuls bet big
With no winner in Wednesday night's drawing, the prize tops $250 million for the third time in the past year.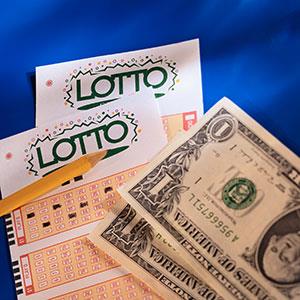 Powerball fans have another prize to dream about this week after no one won Wednesday's $260 million jackpot. That leaves some $320 million up for grabs for Saturday's drawing.
And that total could grow as people line up for the chance to win.
The current Powerball jackpot is making history as one of the game's largest annuities ever. The cash payout is estimated at $198.3 million.
This is the third Powerball jackpot to top $250 million in less than a year, ABC news
reports
.
And lottery fever is kicking in, even though your chance of winning is about 1 in 175 million. But people are jumping at the chance to buy some hope and fantasize for a little while about what they would do with the money.
Some 43 states and Washington D.C. participate in the Powerball, creating an economic boost at a time when the country needs it. But it's not as much of a boost as you'd think.
reports
. About 60% of the sales are paid to the winners, about 6% are commissions for retailers and 9% pay for administrative costs.
Some economists say that if you actually went out and spent that money on goods and services instead of gambling it away, the economy would see a bigger boost.
But if you must play, consider going to the fortune cookie for your winning numbers. In 2005, 110 players got five of the six numbers right, raising suspicion among lottery officials, The New York Times
reports
. But there was no fraud involved; those players all took their winning numbers from fortune cookies made by a New York City factory.
DATA PROVIDERS
Copyright © 2014 Microsoft. All rights reserved.
Fundamental company data and historical chart data provided by Morningstar Inc. Real-time index quotes and delayed quotes supplied by Morningstar Inc. Quotes delayed by up to 15 minutes, except where indicated otherwise. Fund summary, fund performance and dividend data provided by Morningstar Inc. Analyst recommendations provided by Zacks Investment Research. StockScouter data provided by Verus Analytics. IPO data provided by Hoover's Inc. Index membership data provided by Morningstar Inc.
MARKET UPDATE
[BRIEFING.COM] The stock market ended the holiday-shortened week on a mixed note as the Dow Jones Industrial Average shed 0.1%, while the S&P 500 added 0.1% with seven sectors posting gains.

Equity indices faced an uphill climb from the opening bell after disappointing quarterly results from Google (GOOG 536.10, -20.44) and IBM (IBM 190.04, -6.36) weighed on the early sentiment. Google reported earnings $0.15 below the Capital IQ consensus estimate on revenue of $15.42 ... More
More Market News
TOP STOCKS
This is the oil play to watch
The Cline Shale in Texas could be the largest North American oil region of all time. Here's one stock at the center of it all.