AIG's possible bailout lawsuit draws ire
After getting rescued by Uncle Sam, the insurer is reportedly contemplating whether to sue over its rescue.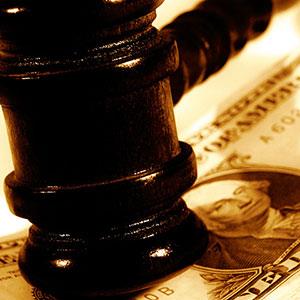 American International Group
(
AIG
) is so grateful to the government that it might sue the heck out of it. Welcome to another day in lawsuit-happy America.
The insurer, if you'll recall, was in such financial trouble in 2008 that it needed a $182 billion bailout from Uncle Sam during the financial crisis. This was a massive rescue. The government ended up taking a 92% stake in the company,
according to
The New York Times.
The bailout was deemed a success on all sides. "AIG was able to shed its riskiest assets and find solid financial footing,"
reports
Bloomberg. Taxpayers, for their part, made a $22.7 billion profit when AIG repaid the loan with interest.
But AIG shareholders were anything but happy. The company's former CEO, Maurice "Hank" Greenberg, filed a $25 billion lawsuit last year against the government claiming that the bailout violated the constitutional rights of shareholders.
The 87-year-old Greenberg, through his asset management company Starr International, owned 12% of AIG before the bailout. He's particularly upset with the way the government swapped a block of preferred stock for 562.9 million common shares. Greenberg also didn't like the 14.5% interest rate the government charged on its loans to AIG.
OK, fine. Greenberg can go ahead and sue. But why would AIG consider joining? Check out
this letter
, not even a month old, to employees from AIG chief Robert Benmosche praising the bailout. AIG and the government finally settled the bailout bill last month, which marked "one of the most extraordinary -- and what many believed to be the most unlikely -- turnarounds in American business history," Benmosche wrote.
To go from there to suing the government is laughable. "If AIG enters this suit it would be the equivalent of a patient suing their doctor for saving their life," Mark Williams, a former Federal Reserve bank examiner,
told
Reuters.
But AIG's board feels a duty to shareholders to at least consider joining, The New York Times reports. But the move "would almost certainly be widely seen as an audacious display of ingratitude."
Ingratitude that flies in the face of "Thank you America," a national advertising campaign that AIG is running to show how much it appreciated the bailout. It truly doesn't get more ridiculous than this.
Reactions to the news Tuesday ranged from incredulous to angry.
"Thank you, AIG, for reminding us that you guys are the worst,"
wrote
Matt O'Brien, associate editor at The Atlantic, on Twitter. Staying with the medical analogy, Washington Post opinions editor James Downie
wrote
that "AIG sues doctors who performed lifesaving heart surgery on them for suggesting they might want to watch what they eat."
Former U.S. Secretary of Labor Robert Reich
wrote
that "we should counter-sue for stupidity." Newly elected Massachusetts Sen. Elizabeth Warren wrote this sharply worded response:
Taxpayers across this country saved AIG from ruin, and it would be outrageous for this company to turn around and sue the federal government because they think the deal wasn't generous enough. Even today, the government provides an ongoing, stealth bailout, propping up AIG with special tax breaks -- tax breaks that Congress should stop. AIG should thank American taxpayers for their help, not bite the hand that fed them for helping them out in a crisis.
The former inspector general for the Wall Street bailout, Neil Barofsky, said joining the lawsuit would be a "giant middle finger to the taxpayer,"
according to
Politico.
More on Money Now

DATA PROVIDERS
Copyright © 2014 Microsoft. All rights reserved.
Fundamental company data and historical chart data provided by Morningstar Inc. Real-time index quotes and delayed quotes supplied by Morningstar Inc. Quotes delayed by up to 15 minutes, except where indicated otherwise. Fund summary, fund performance and dividend data provided by Morningstar Inc. Analyst recommendations provided by Zacks Investment Research. StockScouter data provided by Verus Analytics. IPO data provided by Hoover's Inc. Index membership data provided by Morningstar Inc.
MARKET UPDATE
[BRIEFING.COM] The stock market finished an upbeat week on a mixed note. The S&P 500 shed less than a point, ending the week higher by 1.3%, while the Dow Jones Industrial Average (+0.1%) cemented a 1.7% advance for the week. High-beta names underperformed, which weighed on the Nasdaq Composite (-0.3%) and the Russell 2000 (-1.3%).

Equity indices displayed strength in the early going with the S&P 500 tagging the 2,019 level during the opening 30 minutes of the action. However, ... More
More Market News