Has Boeing's Dreamliner become a nightmare?
Already this week, airlines report 4 separate problems with the aircraft. The plane is still troubled after a rocky path to production.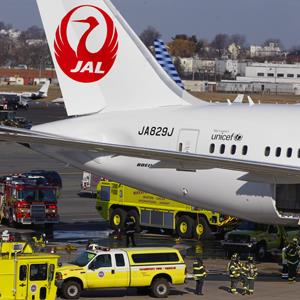 Shares of
Boeing
(BA)
fell 2.6% Tuesday amid new questions about the safety and reliability of its much-hyped 787 Dreamliner, which began flying last year after nearly four years of delays.
According to a Boeing statement, smoke found Monday during the cleaning of a Japan Airlines 787 was traced to the battery used to start the auxiliary power unit. The company is cooperating with an investigation by the National Transportation Safety Board. 
In a separate incident Monday, another JAL Dreamliner reported an electric fire. Tuesday, a JAL 787 was forced to cancel its takeoff and return to the gate after a fuel leak was discovered. The incidents happened on three different planes, according to
Reuters
. 
"As is standard practice within the industry, it would be premature to discuss additional details at this stage as the investigation is ongoing," the company said about the electrical fire incident. "However, nothing that we've seen in this case indicates a relationship to any previous 787 power system events, which involved power panel faults elsewhere in the aft electrical equipment bay."
They are the latest in a litany of woes affecting the 787.
The Wall Street Journal
reported Tuesday that United found that the wiring was installed incorrectly on one of its Dreamliners.  Indeed, the aircraft's development has been anything but a dream. Japan's All Nippon Airways, which received the first Dreamliner deliveries last year, was forced to temporarily ground the aircraft in July after engine problems were discovered, the
Wall Street Journal
reported.
Airlines were attracted to the Dreamliner because Boeing boasted that it could cut fuel costs by as much as 20%. Jet fuel is, not surprisingly, huge portion of an airline's costs. The Dreamliner has many fans. It is the first airliner built with carbon-reinforced composite plastics instead of metal, which help it fly faster and further using less fuel than more conventional aircraft.
"Pilots who strap into Boeing's new 787 most likely will conclude that it is the easiest to fly and most intuitive jetliner ever built by the Seattle-based manufacturer, based upon our findings during a demo flight in mid-November," wrote Fred George in
Aviation Week.
Whether the dream will match the reality of the 787 remains to be seen. A Boeing spokeswoman declined to comment beyond the company's statement.

--Jonathan Berr does not own shares of the listed stocks. Follow him on Twitter @jdberr.
More on Money Now


Just goes to show you the true cost of outsourcing the engineering of the aircraft. What exactly did you think would happen when you used inexperienced new hire engineers, overseas engineers in india and inexperienced new hire workers on the 787 program. You saved a ton of money didn't you Boeing? What a joke! At this point, I doubt you will ever turn a profit on this airplane. Maybe it's time to make some changes, and have experienced Boeing engineers, and experienced mechanics building this aircraft. Not engineers just out of college. Not engineers from India, and definitely not new hire mechanics off the street, which by the way have no clue how to build a quality aircraft!
Somebody had better pull their head out, before this company gets run into the ground, and for all of you newer mechanics, and quality inspectors on the line, that think you are protecting your jobs by constantly trying to delay delivery of the aircraft with intentional poor workmanship, and writing ridiculous pickups on jobs......... Let me assure you, that is not the case. You are all digging your own hole very quickly. Wait and see. High quality aircraft and on-time deliveries=profit and jobs! Low quality work and not delivering aircraft on time=profit loss, job losses, and very possibly the loss of the 787 program completely. If Boeing isn't making any money on this program, no point in continuing to build this aircraft. What is so hard to understand about that?  
Are you sure you want to delete this comment?
DATA PROVIDERS
Copyright © 2014 Microsoft. All rights reserved.
Fundamental company data and historical chart data provided by Morningstar Inc. Real-time index quotes and delayed quotes supplied by Morningstar Inc. Quotes delayed by up to 15 minutes, except where indicated otherwise. Fund summary, fund performance and dividend data provided by Morningstar Inc. Analyst recommendations provided by Zacks Investment Research. StockScouter data provided by Verus Analytics. IPO data provided by Hoover's Inc. Index membership data provided by Morningstar Inc.
MARKET UPDATE
[BRIEFING.COM] The stock market finished the Tuesday session on the defensive after spending the entire day in a steady retreat. The S&P 500 (-0.6%) posted its third consecutive decline, while the small-cap Russell 2000 (-0.9%) slipped behind the broader market during afternoon action.

Equity indices were pressured from the start following some overnight developments that weighed on sentiment. The market tried to overcome the early weakness, but could not stage a sustained rebound, ... More
More Market News