Taxes on the rich are near 30-year highs
Wealthy families are paying some of their biggest federal tax bills in decades, a liberal-leaning tax group says.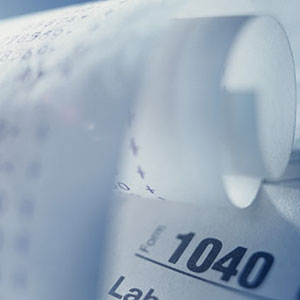 As Democratic leaders push for wealthy families to pay higher taxes as part of a budget deal comes some startling news: The rich are actually paying federal tax bills approaching 30-year highs. 

The average tax payment for a high-income family has rarely been higher, according to data going back to 1979, when the Congressional Budget Office started tracking the information. The report comes from the Associated Press, which cites projections from the liberal-leaning Tax Policy Center.
Families in the top 20% will pay an average of 27.2% of their incomes in federal tax this year, according to the research organization, which is a joint venture of the Urban Institute and Brookings Institution, both considered to be liberal-leaning groups. 
So, who fits into the top 20% of U.S. earners? Families with average incomes of $204,490. Their average tax bill will total more than $55,000 this year, according to the Tax Policy Center. This group of families will carry a huge share of the federal tax burden, at 71.8%. 
Meanwhile, the average family in the bottom 20% won't pay any federal taxes. Because many of those families will receive tax credit payments, they actually have a negative tax rate, according to the group. 
"My sense is that high-income people feel abused by being targeted always for more taxes," Tax Policy Center fellow Robertson Williams told the AP. "You can understand why they feel that way."
The top 20% of families paid an average federal tax rate of 27.1% in 1979, according to data from the Congressional Budget Office that's cited on the Tax Policy Center's website. That had declined to a low of 23.2% in 2009, when President Barack Obama was serving the first year of his first term. The Tax Policy Center's site displays data only from 1979 through 2009. 
The analysis comes after the Senate Democrats last week failed to advance a proposal that would have put higher taxes on millionaires. That's something the Republicans oppose. A competing Republican bill also failed, and the sequester started taking effect after Friday's deadline passed. 
Obama blamed the Republicans, saying that they "voted to let the entire burden of deficit reduction fall squarely on the middle class." 
But according to the Tax Policy Center, the tax burden on the middle 20% of U.S. households has actually declined. That group, which makes an average of $46,600 annually, will pay 13.8% of their income on average in federal taxes this year, down from  about 16% over the past three decades, according to the AP. 
The worst news might be for the country's biggest earners: Families that make more than $1 million in 2013 will pay 37.3% to the federal government, the study found. 
Of course, you might not want to play a sad tune just yet. Average incomes for the top 1% of households more than doubled from 1979 through 2009, while average income for those in the center rose by only one-third, the story notes. 
DATA PROVIDERS
Copyright © 2014 Microsoft. All rights reserved.
Fundamental company data and historical chart data provided by Morningstar Inc. Real-time index quotes and delayed quotes supplied by Morningstar Inc. Quotes delayed by up to 15 minutes, except where indicated otherwise. Fund summary, fund performance and dividend data provided by Morningstar Inc. Analyst recommendations provided by Zacks Investment Research. StockScouter data provided by Verus Analytics. IPO data provided by Hoover's Inc. Index membership data provided by Morningstar Inc.
MARKET UPDATE
[BRIEFING.COM] After spending the first two hours of the trading day in a steady slide, the S&P 500 has maintained a four-point range over the past 60 minutes.

The materials sector (+0.1%) has been able to stay out of the red, but its slim gain is now in jeopardy following an orderly decline from the opening high. Steelmakers have factored into the retreat as evidenced by a 2.9% decline in the Market Vectors Steel ETF (SLX 47.23, -1.40). Miners haven't done much to turn the ... More
More Market News